When you're looking to move to a new city, there are lots of things that may influence your decision, especially if you're single. And while meeting new people has never been easier, with dating apps offering millions of potential connections at the tip of our fingers, where can you actually find the best dating scene?
To help singletons achieve their dating dreams, TopRatedCasinos has revealed the best cities for dating in 2023. The study examines 40 of the most populated cities in the US, comparing them against the following metrics:
Romantic restaurants

Cinemas

Bars

Cafés & coffee shops

Museums

Food & drink tours

Safety

Cost of a meal out for two people

Rent for a one-bedroom flat

Cost of a pint of beer

Cost of a bottle of wine at the supermarket
We then awarded each city a score out of 10, creating a ranking of the top cities to be single and ready to mingle. In addition, we analysed which cities are searching for dating apps the most to reveal the locations with the highest interest in dating.
Las Vegas crowned America's best city for dating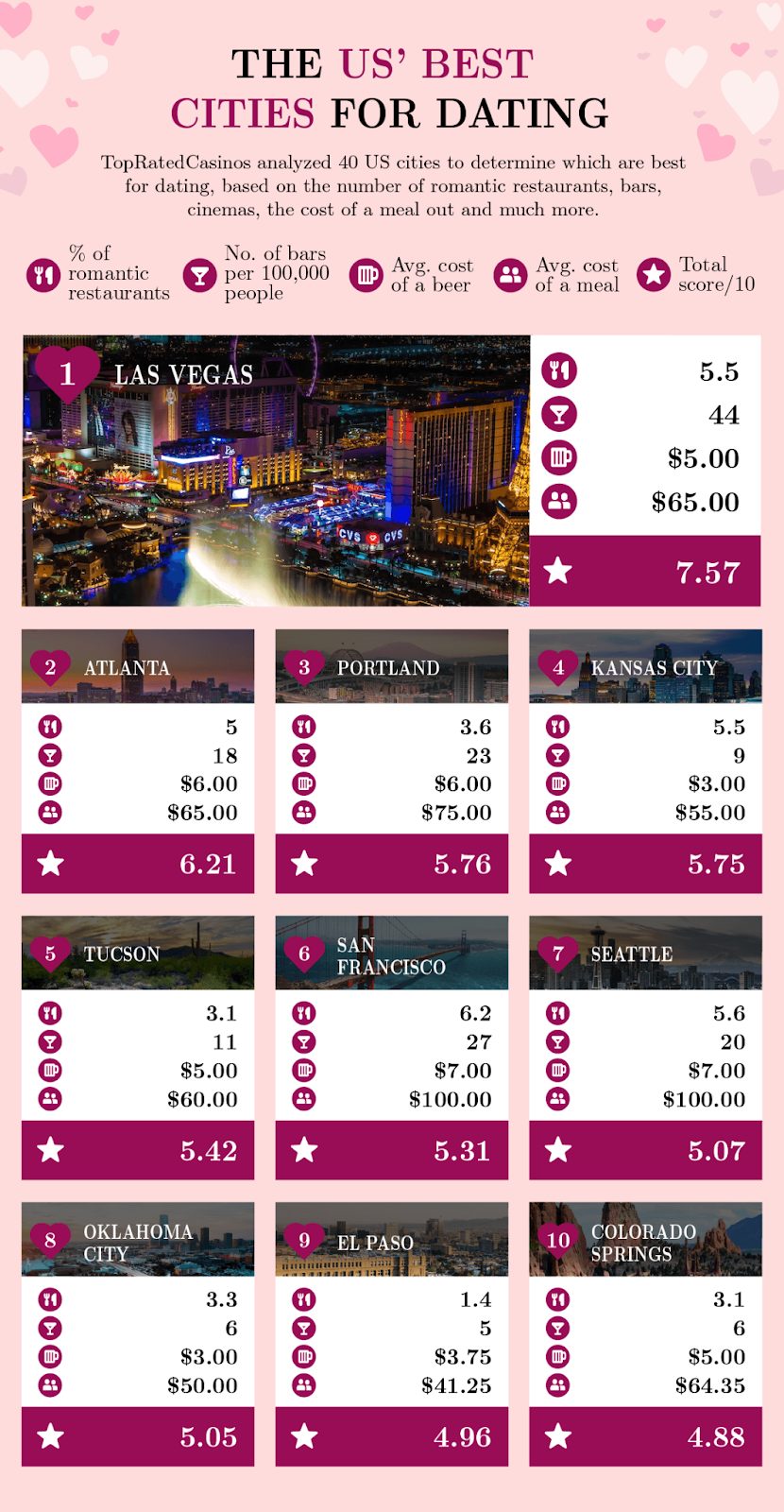 For single Americans seeking adventure, and a wide range of dating activities, you can't beat the bright lights and lively atmosphere of Las Vegas – which is why it ranks as the best city for dating in the US. 
With the highest number of bars (44) and cinemas (3) per 100,000 people – as well as plenty of coffee shops (21) and museums (15) – there's never a dull moment in Vegas. While prices vary depending on where you want to go, the average cost for a meal for two is $65 and a beer averages $5. 
Atlanta, Georgia comes in second place. There are fewer activities available here compared to Vegas, but there are still a number of cinemas (2), cafés (19) and museums (12) for couples to explore. You can also grab a bottle of wine from the supermarket for only $10 if you prefer a quiet night in.
Moving further north, Portland, Oregon ranks as the third-best dating hotspot in the US. This city is, unsurprisingly, great for cafés (30 per 100,000 people) and bars – with many independent coffee shops and craft breweries to explore (23 per 100,000). This Pacific Northwestern city is also safer than the top two cities; it received a safety score of 45.3, compared to Vegas' 44.9 and Atlanta's 36.5.
Dating apps most popular in Atlanta, Vegas, and Baltimore to find love
To find out which US cities are hitting the dating apps the most, we looked at how often people are searching for apps like Bumble and Tinder.
Atlanta, Georgia takes the top spot, with an average of 6,220 Google searches per 100,000 people per month. So if you're looking to find love online, Atlanta might be the perfect place to find your match.
Las Vegas and Baltimore come in second and third, with an average search volume of 4,488 and 4,055 respectively. Other cities in the top 10 include Kansas City, Seattle, Dallas, and Boston.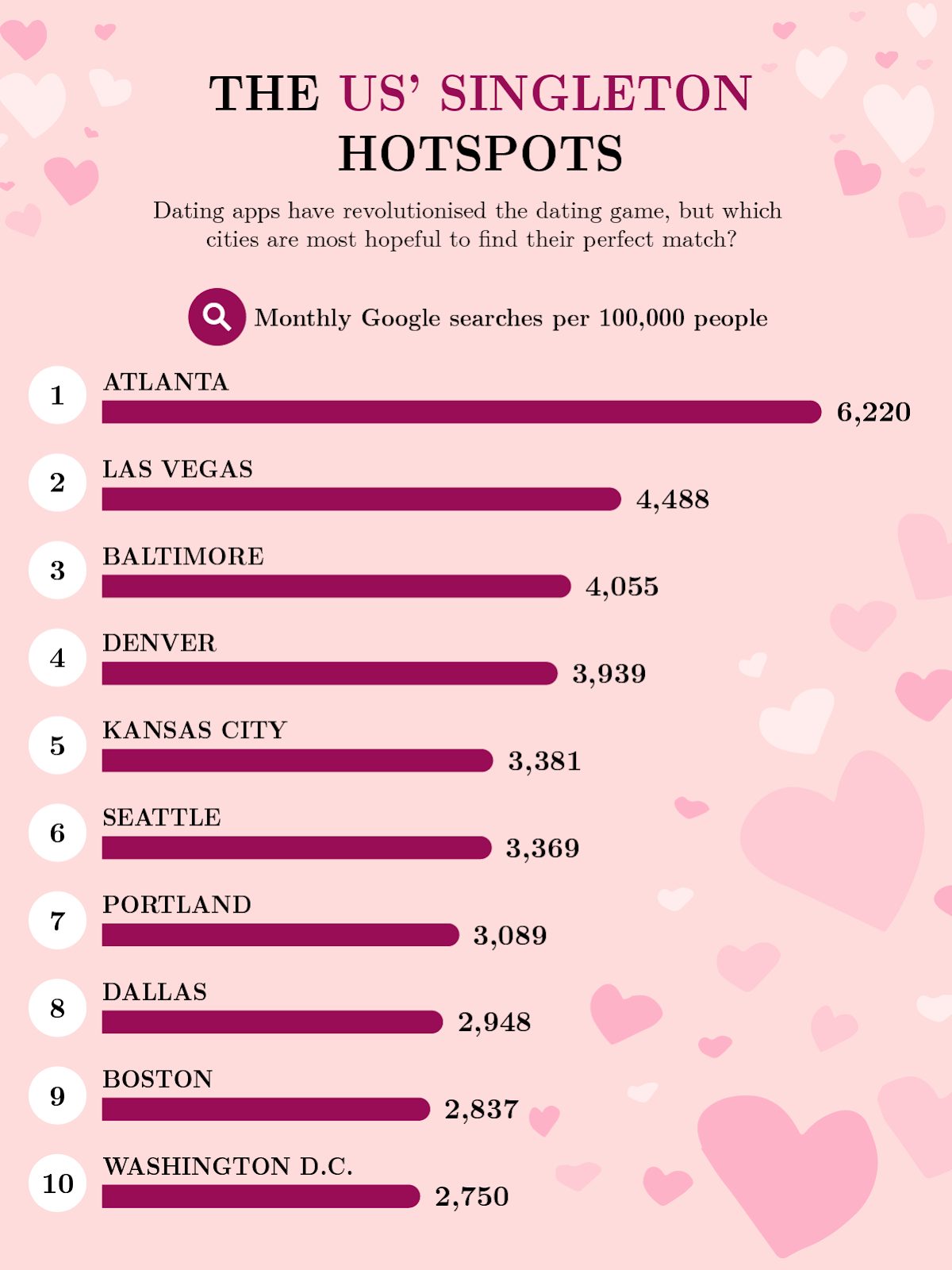 The city that never sleeps or the city never in love? NYC is the worst city to be single
New York City has a reputation for being a terrible place to date, so it's no surprise that it ranks as the worst on our list. A problem the Big Apple suffers from is very high costs and not enough dating activities to cater to its vast population.
It is no surprise that New York is the most expensive city for dating in the US. A meal for two at a mid-range restaurant costs an average of $100, and you can expect to pay around $18 for a bottle of wine from the supermarket. New York is also known for its incredibly high rents, and a one-bed apartment is estimated to cost $3,800 per month.
While trying to find your true love can be difficult in New York, it does actually take the top spot when it comes to romantic restaurants, with 10% of its restaurants classed as romantic.The Californian cities of San Jose and Los Angeles rank as the second and third worst for dating, only narrowly beating New York. Other low-ranking cities include Philadelphia, Phoenix, and Chicago.
| | | |
| --- | --- | --- |
| Rank | City | Total dating score |
| 1 | New York City | 2.8 |
| 2 | San Jose | 3.2 |
| 3 | Los Angeles | 3.4 |
| 4 | Philadelphia | 3.5 |
| 5 | Phoenix | 3.6 |
| 6 | Chicago | 3.7 |
| 7 | Houston | 3.8 |
| 8 | Fresno | 3.9 |
| 9 | Memphis | 4.0 |
| 10 | Indianapolis | 4.0 |
Whether you're looking for a short-term fling or a long-term relationship, any of our top cities for dating are sure to provide the perfect setting for your love story – with plenty of excitement along the way!
If you're interested in finding out what the dating scene is like in the UK, why not head over to our blog here.
Methodology:
Based on the 40 most populated cities in the US, we analysed the volume of different dating activities available in each city, per capita, as well as costs and safety scores, based on data available from TripAdvisor and Numbeo. These metrics were then used to create an indexed ranking. We also used Google Keyword Planner to analyse the average number of monthly searches for some of the most popular dating apps.
All data is accurate as of January 2023.