For single people craving connection, a city's dating scene can have a huge influence on whether they decide to settle down there. But since the key to dating success depends on a range of factors, how do you judge whether somewhere will make or break your love life?
To help singletons achieve their dating dreams, TopRatedCasinos has revealed the best cities for dating in 2023. The study examines 30 of the most populated cities in the UK, comparing them against the following metrics:
Romantic restaurants

Cinemas

Bars

Cafés & coffee shops

Museums

Food & drink tours

Safety

Cost of a meal out for two people

Rent for a one-bedroom flat

Cost of a pint of beer

Cost of a bottle of wine at the supermarket
We then awarded each city a score out of 10, creating a ranking of the top cities to be single and ready to mingle. In addition, we analysed which cities are searching for dating apps the most to reveal the locations with the highest interest in dating.
Edinburgh crowned the best city for dating in the UK
You might not think of Scotland to have a thriving dating scene, but our research suggests that Scottish cities actually have the most to offer their single residents, as Edinburgh and Aberdeen take the top two spots.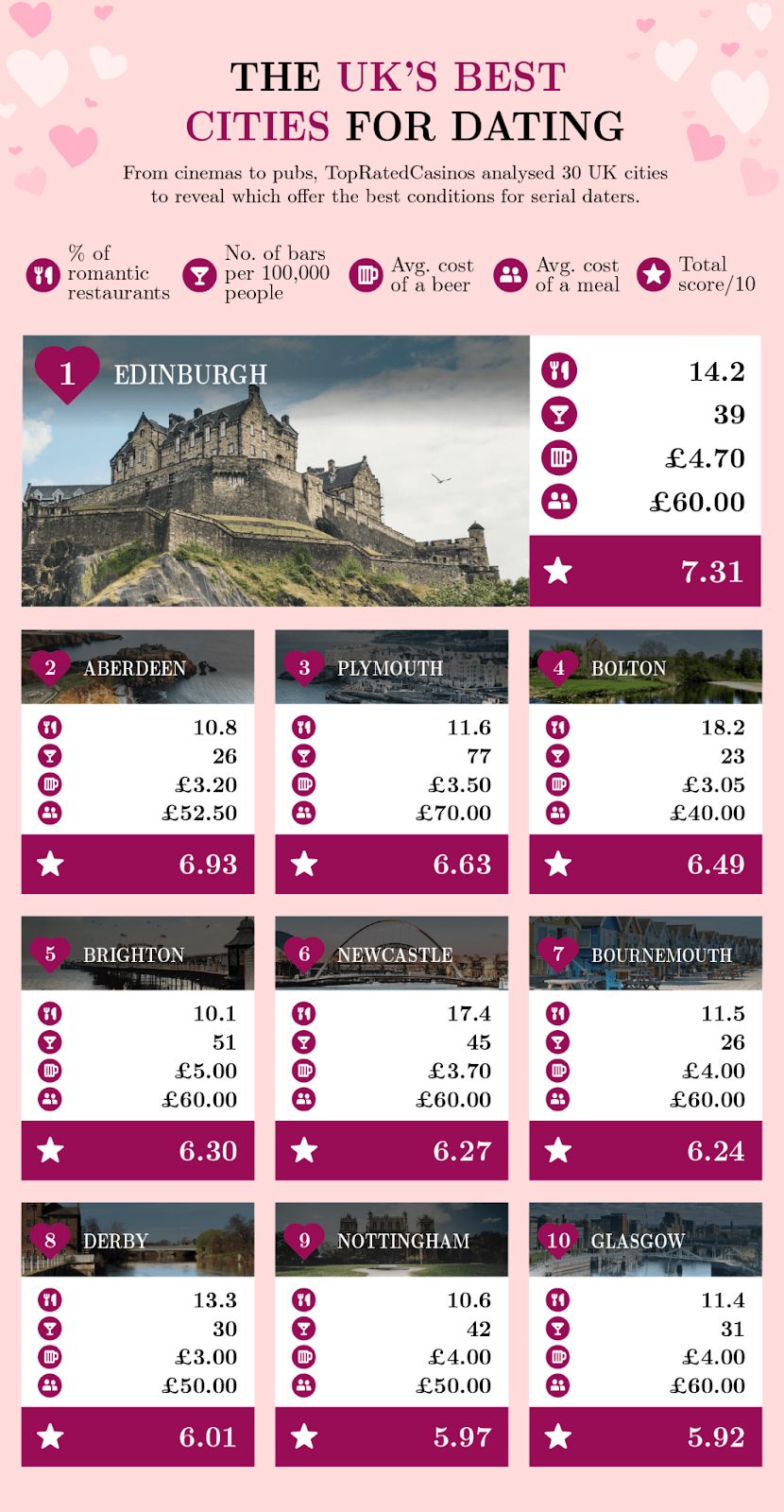 Edinburgh is known for its flourishing culture, so it's no surprise that it offers the greatest number of coffee shops (48) and museums (20) per 100,000 people. It's also the safest UK city, receiving a high safety score of 69.1. 
The downside is that Edinburgh can be costly; a meal out for two at a mid-range restaurant in this city comes with one of the highest price tags in the UK at £60. This is just £10 less than the most expensive cities, Plymouth and London, where a meal costs £70 on average.
The smaller Scottish city of Aberdeen comes in second place, offering a similarly high safety score (66) and more food & drink tours than Edinburgh. If your perfect date night includes bar hopping, then Aberdeen offers 26 bars per 100,000 people.
Plymouth places third and also takes the top spot for bar or pub dates, offering the highest number of bars per 100,000 people in the UK (77). The city also ranks eighth for the highest percentage of romantic restaurants, with 12% of all restaurants rated great for couples.
Northerners most likely to swipe for love
It's difficult to navigate the world of modern dating without the use of dating apps; more and more single people are turning to apps such as Bumble, Hinge and Tinder to aid in their quest for love. In light of this, we've taken a look at Google search data for dating apps in each UK city to reveal who is hoping to find love in 2023.
Northern cities are leading the quest for love, with Glasgow, Leeds, and Newcastle searching for dating apps more than anywhere else in the UK. Residents of Glasgow make an average of 6,220 searches per 100,000 people per month, while Leeds and Newcastle average 5,868 and 5,226 searches each month respectively.
Other cities in the top 10 for dating apps include Liverpool, Bournemouth, Belfast, and Birmingham.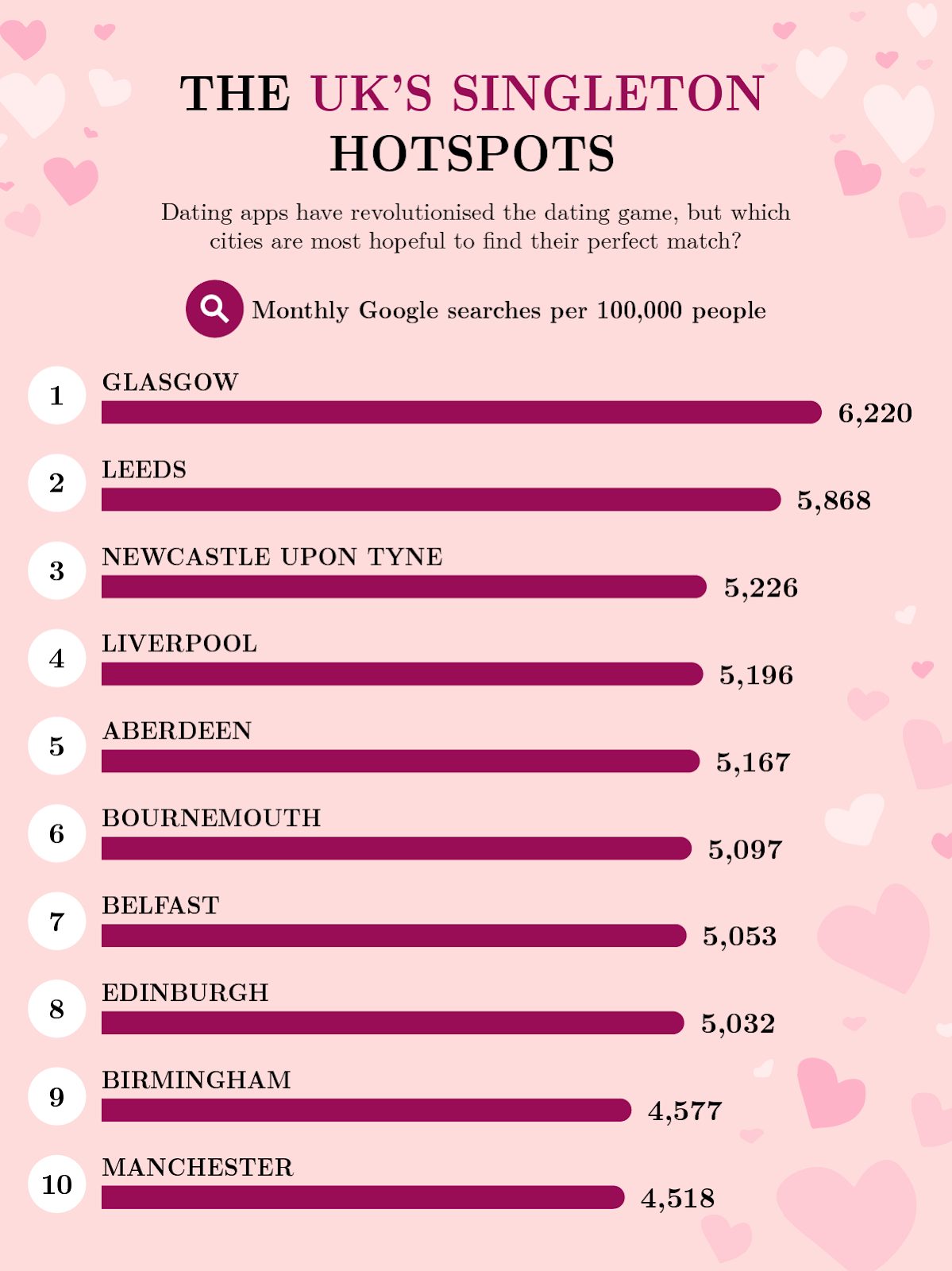 London is the UK's worst city to be single
Despite being the country's capital, dating hopefuls may want to avoid London in their search for love. Our ranking revealed London is the worst city for dating in the UK, thanks to high costs, a poor safety score (46.2), and a surprisingly small number of activities available when considering the huge population. 
There are just 12 bars, 17 cafés and one cinema per 100,000 people in the UK's capital. So while London's large population of nearly nine million may seem beneficial for broadening your dating pool, it also means a lot of competition for those date night hotspots, especially if you're hoping to be spontaneous.
London's neighbouring city Luton is crowned the second worst for dating, with only 5% of its restaurants considered romantic and six bars per 100,000 people – the second lowest of all cities analysed. It does however benefit from being cheaper than London; a meal out for two will set you back £40, rather than London's £70. A bottle of wine from the supermarket is also £2 cheaper here than in the capital, which is ideal if a cosy date at home is on the cards.
| | | |
| --- | --- | --- |
| Rank | City | Total dating score |
| 1 | London | 2.6 |
| 2 | Luton | 3.5 |
| 3 | Reading | 3.9 |
| 4 | Coventry | 4.0 |
| 5 | Birmingham | 4.5 |
| 6 | Wolverhampton | 4.6 |
| 7 | Leicester | 4.6 |
| 8 | Northampton | 4.7 |
| 9 | Bradford | 4.8 |
| 10 | Bristol | 4.8 |
Whether you're looking for a short-term fling or a long-term relationship, any of our top cities for dating are sure to provide the perfect setting for your love story – with plenty of excitement along the way!
If you're thinking about a move to the US, why not check out our blog on the best cities for dating in America here.
Methodology:
Based on the 30 most populated cities in the UK, we analysed the volume of different dating activities available in each city, per capita, as well as costs and safety scores, based on data available from TripAdvisor and Numbeo. These metrics were then used to create an indexed ranking. We also used Google Keyword Planner to analyse the average number of monthly searches for some of the most popular dating apps.
All data is accurate as of January 2023.