While we may be a nation divided on a lot of things, our love of tea and biscuits has lasted through the ages. Having said that, Britain's treasured pastime does have the tendency to get quite controversial, whether it's down to our choice of tea brand, our preferred biscuits, or even the order in which we make our cuppa.  
With this in mind, we undertook extensive research to find out once and for all what the perfect tea and biscuit combination really is. We asked the British public to share their favourite biscuits to eat and dunk, their preferred tea bag brands, and how exactly they make their tea. We then put those favourite biscuits to the test by conducting an experiment to determine the 'dunkability' of each biscuit, in order to then crown the ultimate winner. 
One particular biscuit brand came out triumphant in our study, with Chocolate Digestives topping the list of the UK's favourite biscuits to eat, while the plain Digestive ranked as the nation's favourite to dunk. This was despite neither biscuit ranking highly in our dunkability experiment – suggesting perhaps the UK doesn't mind a crumbly brew!
Jaffa Cakes are crowned the ultimate dunking biscuit
In order to determine which of the nation's most loved biscuits is the most dunkable, we took matters into our own hands. We gathered a selection of 17 of the most popular biscuit types, which were then dunked into water at the average temperature of a cup of tea (70-75 degrees celsius). We timed how long each biscuit took to break apart, while counting how many dunks it took before this happened. 
With a whopping 116 dunks, and a total time of 3 minutes and 16 seconds before it even broke apart, the humble Jaffa Cake has been crowned the most dunkable biscuit – though we must acknowledge this is perhaps a slightly controversial winner, depending on what side of the 'biscuit vs. cake' debate you land on. 
Following behind in second place for dunkability is the Chocolate Leibniz, which took 80 dunks, and 2 minutes and 20 seconds, to break. In a very close third place, the classic Bourbon, which took just two less dunks than the Liebniz with 78, but held on slightly longer before it broke, with a time of 2 minutes and 28 seconds. 
Unfortunately, the trusty Digestive came out as the least dunkable biscuit, which crumbled after a mere 11.5 seconds, and withstood only 6 dunks. Despite this, the nation still voted the plain Digestive as their favourite biscuit to dunk, with 26% of Brits clearly enjoying some extra crumbs in their tea.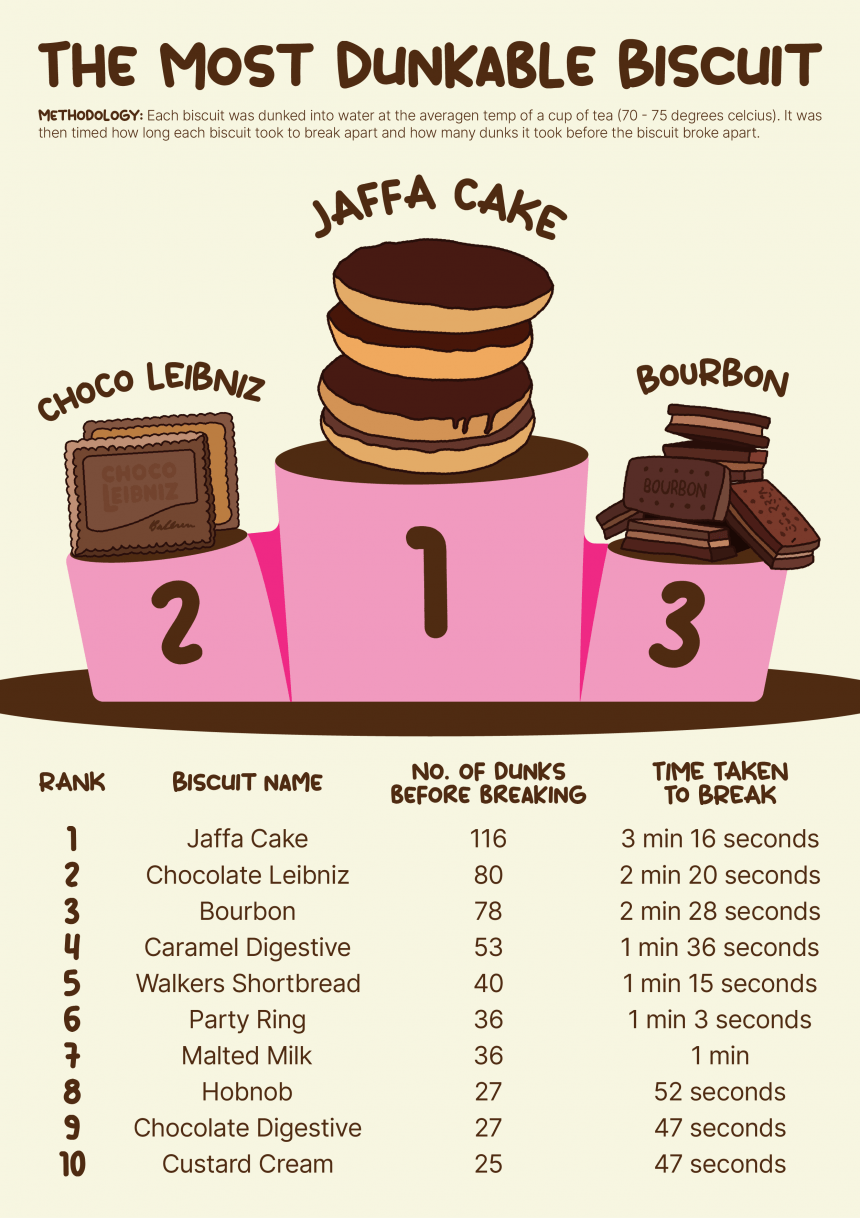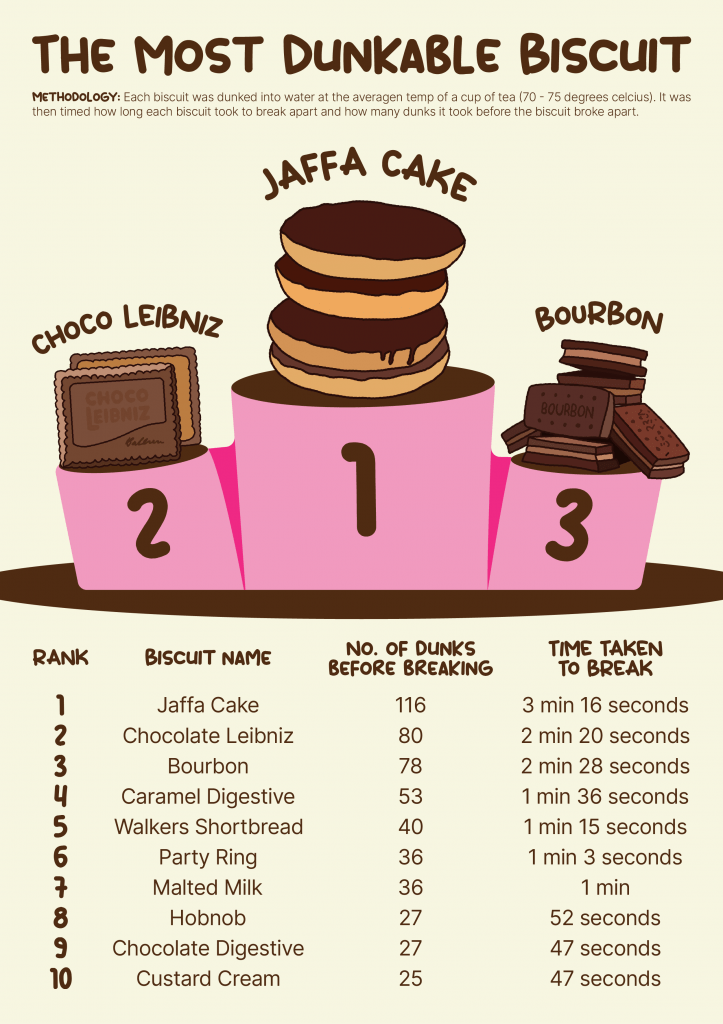 Chocolate Digestives are the nation's favourite biscuit 
Topping the list of favourite biscuits to eat is the plain Digestive's more exciting other half, the Chocolate Digestive, with 28% of the votes. It was a clear winner among both men and women, and across every age group, except for those aged 25 to 34 year olds who prefer to eat Jaffa Cakes. It was also the favourite biscuit of every star sign, except for those typically-independent Leos who claimed they prefer to eat custard creams. 
In second place we have the newly-crowned, most dunkable Jaffa Cake with 22% of the votes, and in third place was the plain Digestive, with 19%.
Among the least popular biscuits to eat were Lotus (7%), Pink Wafers (7%) and Garibaldi biscuits (6%). Sadly, Lotus biscuits also ranked very low in the dunkability experiment, managing only 6 dunks, and 12 seconds, before breaking.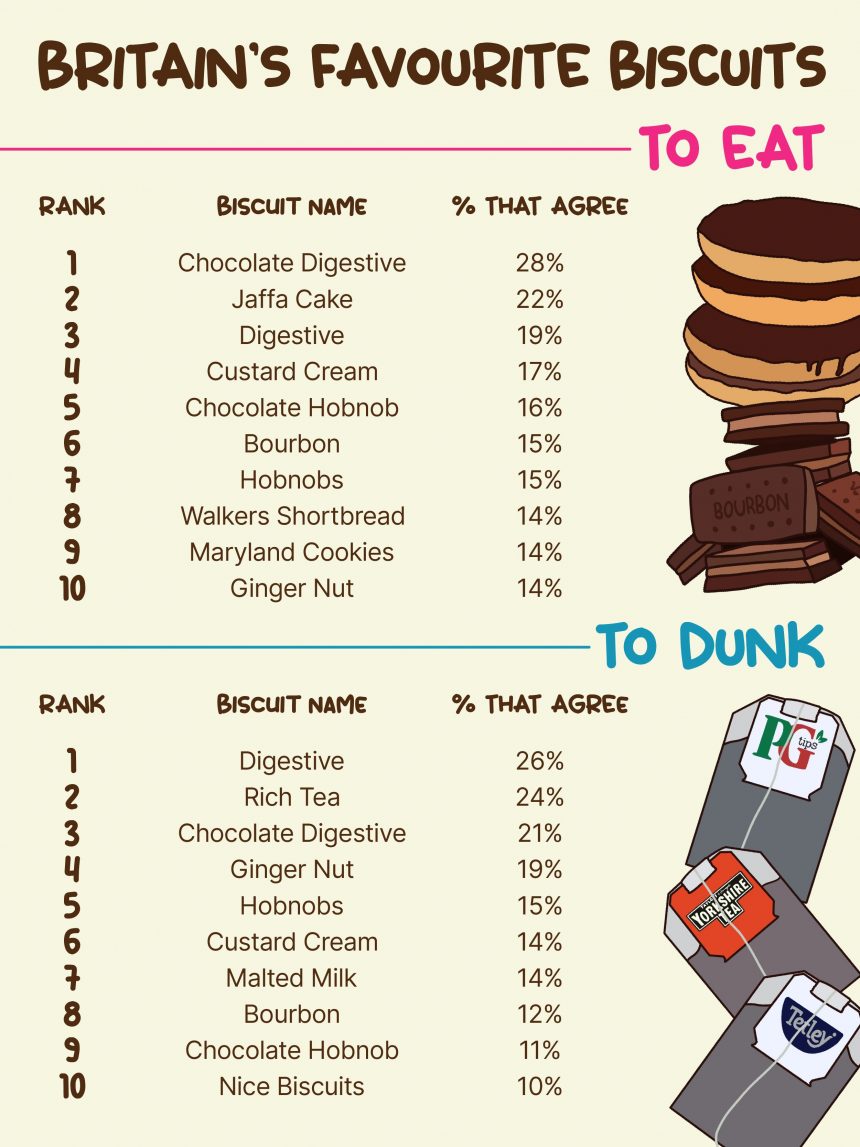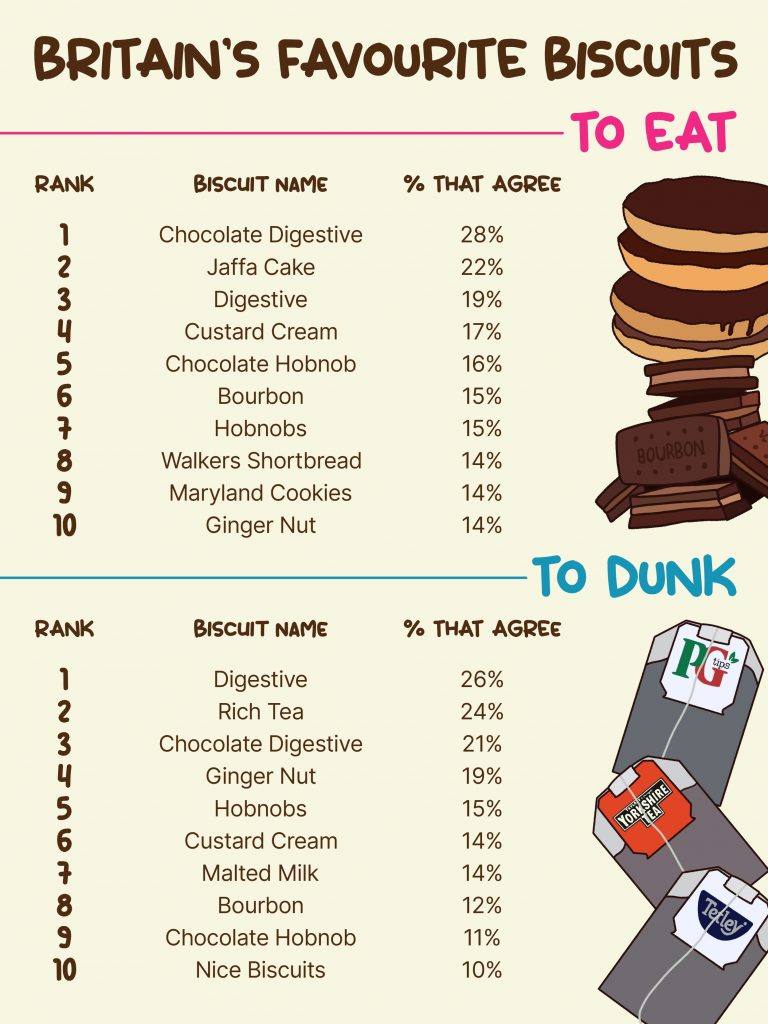 PG Tips tops the list of Britain's favourite tea brands 
According to our study, with 32% of the public citing it as their preferred brand, PG Tips ranks top of the list of the nation's favourite tea brands.
While coming in a humble second place for the nation, Yorkshire Tea was a clear winner for one particular county. It will come as no surprise that Yorkshire's favourite tea brand is in fact Yorkshire Tea, with a huge 51% of those in the county voting it as their chosen brand. 
Yorkshire Tea is also the chosen brand among the over 55s, while the younger generations aged between 16 and 34 prefer PG Tips with 31% saying PG Tips is their go-to for the perfect brew. It seems all the stars have aligned for tea lovers, as both PG Tips and Yorkshire Tea were found to be favourites among almost all of the star signs, with only Capricorns deviating and citing Tetley's as a favourite brand.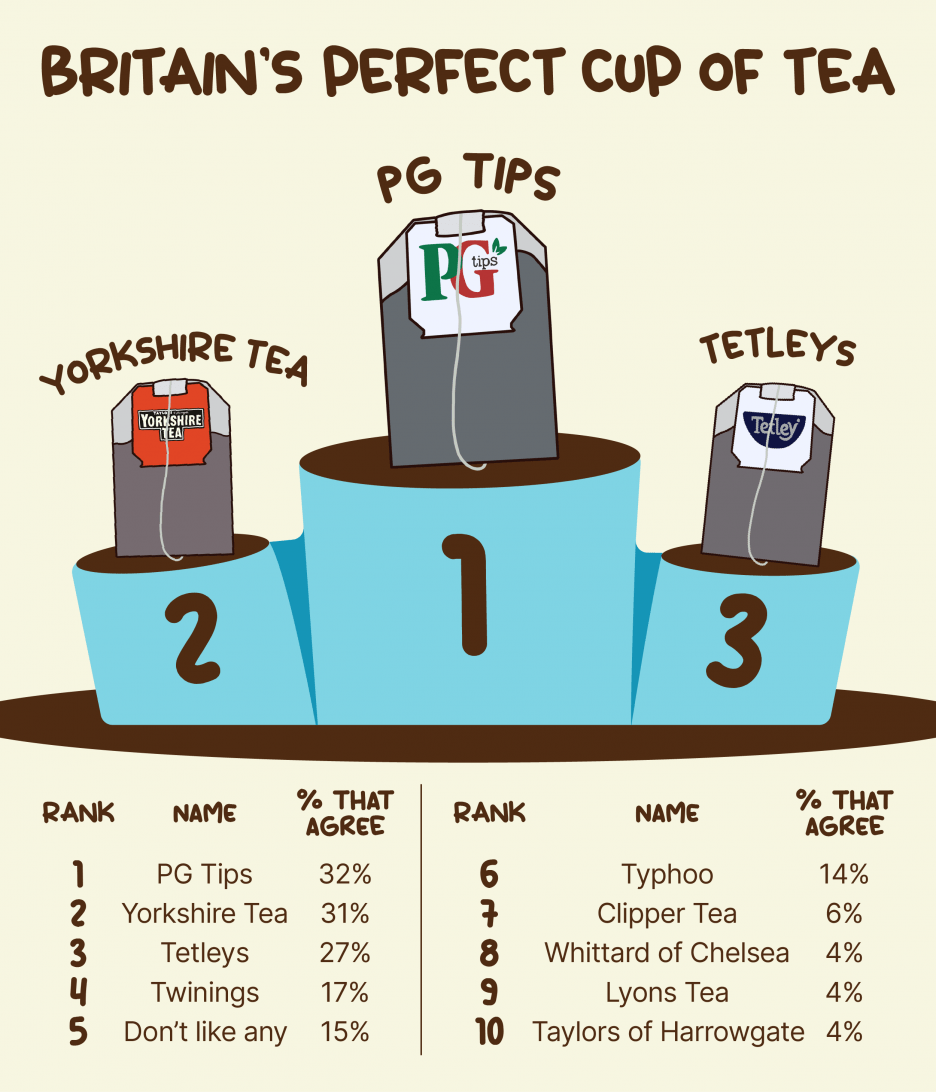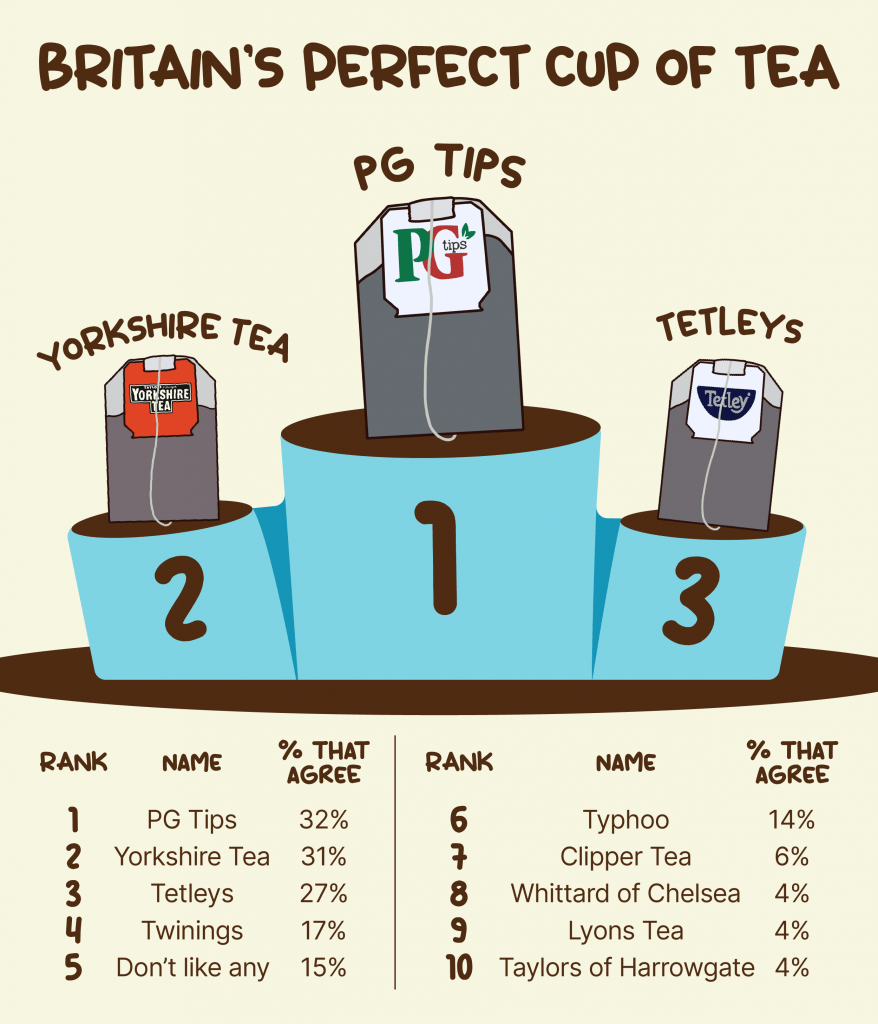 The CORRECT way to make tea revealed once and for all 
In addition to revealing our favourite biscuits and tea brands, our research has also uncovered the nation's preferred method of making the classic cuppa, putting an end to the age old question once and for all. Perhaps unsurprisingly, a resounding 53% of us go down the traditional 'tea bag, water, milk' route, and this method was also most common for both men and women, and across every age and city that we analysed. Clearly, this is the way to go for that perfect brew. 
Having said this, there are a few of us who do like to switch things up, with 36% of respondents choosing to make their tea in various different ways to the status quo. Shockingly, 3% of the public even choose to use a 'water, milk, tea bag' method which just doesn't feel quite right to us. 
              Overall tea method ranking
Rank
Method
Percentage that agree

1

Tea bag, water, milk

53%

2

I don't make tea

12%

3

Water, tea bag milk

12%

4

Tea bag, milk, water

10%

5

Milk, tea bag, water

7%
We might have revealed the nation's favourite tea and biscuit choices, but do they align with yours? Will you be changing the way you make your daily brew, or will you be sticking to your usual habits? 
Whatever your preferences are, this is really just a great excuse to go and put the kettle on, take a break, and have a biscuit – the only question is: to dunk, or not to dunk?
Methodology:
Survey: TopRatedCasinos surveyed 2,009 adults in the UK, between 24.03.2023 and 27.03.2023, asking them to share their favourite biscuits to eat and dunk, their preferred tea brands, and how exactly they like to make their tea. 
Experiment: 17 of the most popular biscuits were dunked into water at the average temperature of a cup of tea (70-75 degrees celsius). The durability was determined by the number of dunks and time it took before the biscuit broke apart.