For many of us, the sports team we support is a big part of our identity. From wearing our team's shirt to painting our faces with their colours, we love to show support for our favourite clubs. But have you ever wondered how being a fan of a certain team could affect your chances on dating apps?
Would supporting Manchester United or the LA Lakers give you an edge over someone who supports lesser-known teams? Would a potential match be more likely to swipe right on someone wearing a Liverpool kit than Tottenham?
To find out, we decided to conduct an experiment to see which football and basketball teams are the most attractive to potential matches on popular apps like Tinder. We created two fake profiles, one man and one woman, and changed their pictures and bio to show support for different Premier League and NBA teams. To give each team an equal chance, all other information on the profile remained the same.
We then got swiping, keeping track of how many matches each team received to find out once and for all which sports fans are the most attractive to potential dates.
Tottenham fans are a turn-off for women
Just 6% of women on dating apps swiped right on our male Spurs fan's profile, making Tottenham Hotspur the least attractive team for men to support. After that, Crystal Palace, Brentford, Arsenal, and Brighton and Hove Albion rank joint second with success rates of only 9% each. 
There's nothing wrong with showing love for your favourite team on your profile, but letting on that you're a fan of one of these teams might do your love life more harm than good. More than 90% of users swiped left on supporters of these teams!
| | | |
| --- | --- | --- |
| | Club | Swipe Success Rate |
| 1 | Tottenham Hotspur F.C. | 6% |
| 2 | Crystal Palace F.C. | 9% |
| 3 | Brentford F.C. | 9% |
| 4 | Arsenal F.C. | 9% |
| 5 | Brighton and Hove Albion F.C. | 9% |
The least attractive Premier League fans
Men swipe left for Nottingham Forest and Everton
Our research also revealed the least attractive Premier League teams to support – and it's bad news for Nottingham Forest fans. Our female Forest fan had a success rate of just 31%, so women who openly show support for this team on their dating profiles could be turning off almost 7 in 10 potential matches.
Everton and Wolverhampton Wanderers supporters share the second lowest swipe success rate at 40%, and Newcastle United fans follow very closely behind with 41%. 
| | | |
| --- | --- | --- |
| Rank | Club | Swipe Success Rate |
| 1 | Nottingham Forest F.C. | 31% |
| 2= | Everton F.C. | 40% |
| 2= | Wolverhampton Wanderers F.C. | 40% |
| 3= | Newcastle United F.C. | 41% |
| 3= | Brighton and Hove Albion F.C. | 41% |
The most attractive Premier League fans
Women find Leeds United and Aston Villa fans most attractive
While Chelsea supporters were deemed the most desirable for men, women showed a preference for those supporting Leeds United. The male Leeds supporter profile received a swipe success rate of 34%, which is more than any other male Premier League fan throughout our experiment.
Aston Villa ranked in the top three again, with women finding them to be the second most attractive fans. The claret and blue wearers saw a swipe success rate of 22%. Southampton and Everton tied for third place with swipe success rates of 18%, and West Ham United rounded out the top five with a success rate of 16%.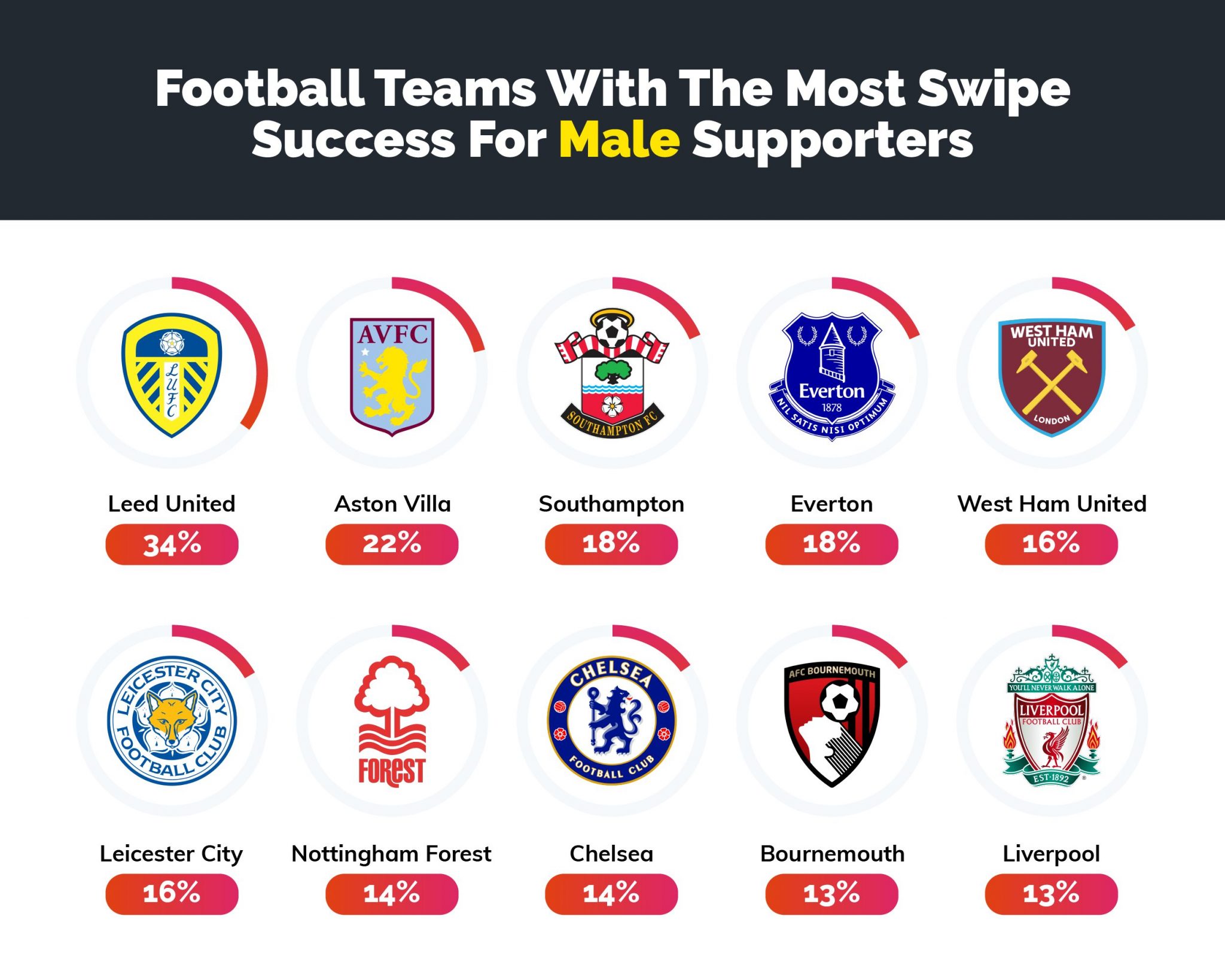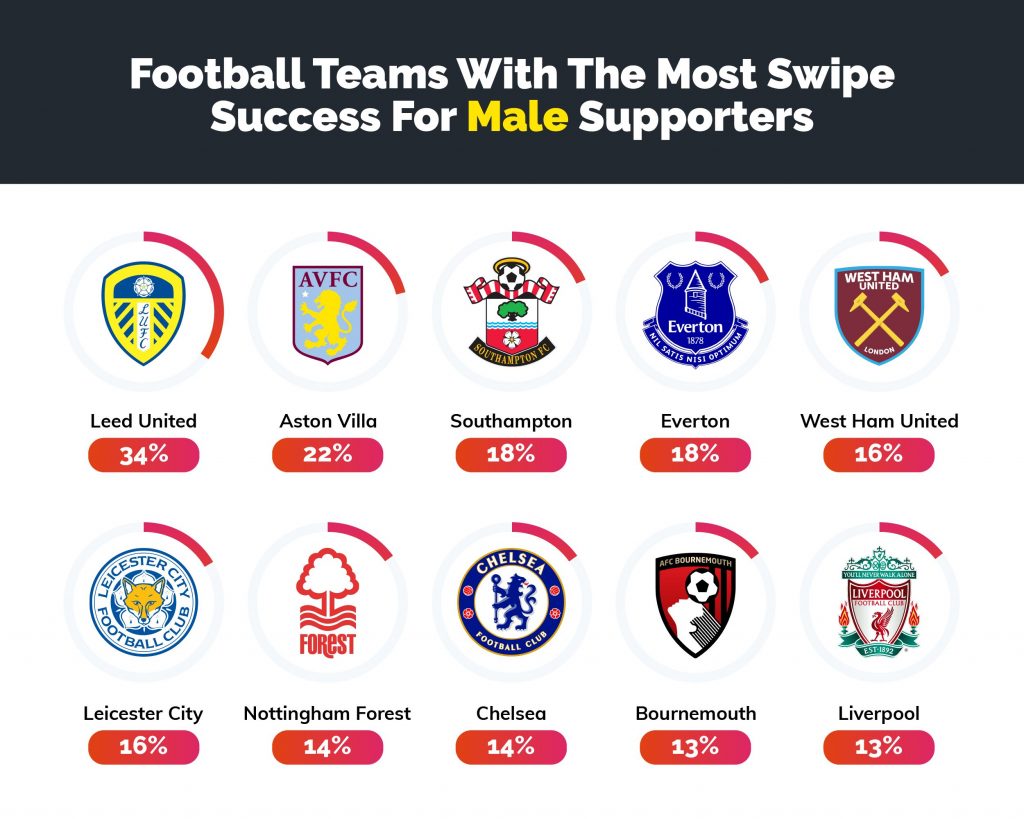 Men are most attracted to Chelsea and Manchester City fans
According to our data, Chelsea is the most attractive team for women to support on dating apps, with an impressive 65% swipe success rate. That means that the female profiles sporting the Chelsea kit received the highest number of matches compared to those supporting other Premier League teams. So, if you're a female Chelsea fan, showing off that blue kit on your profile could make you 65% more attractive to men.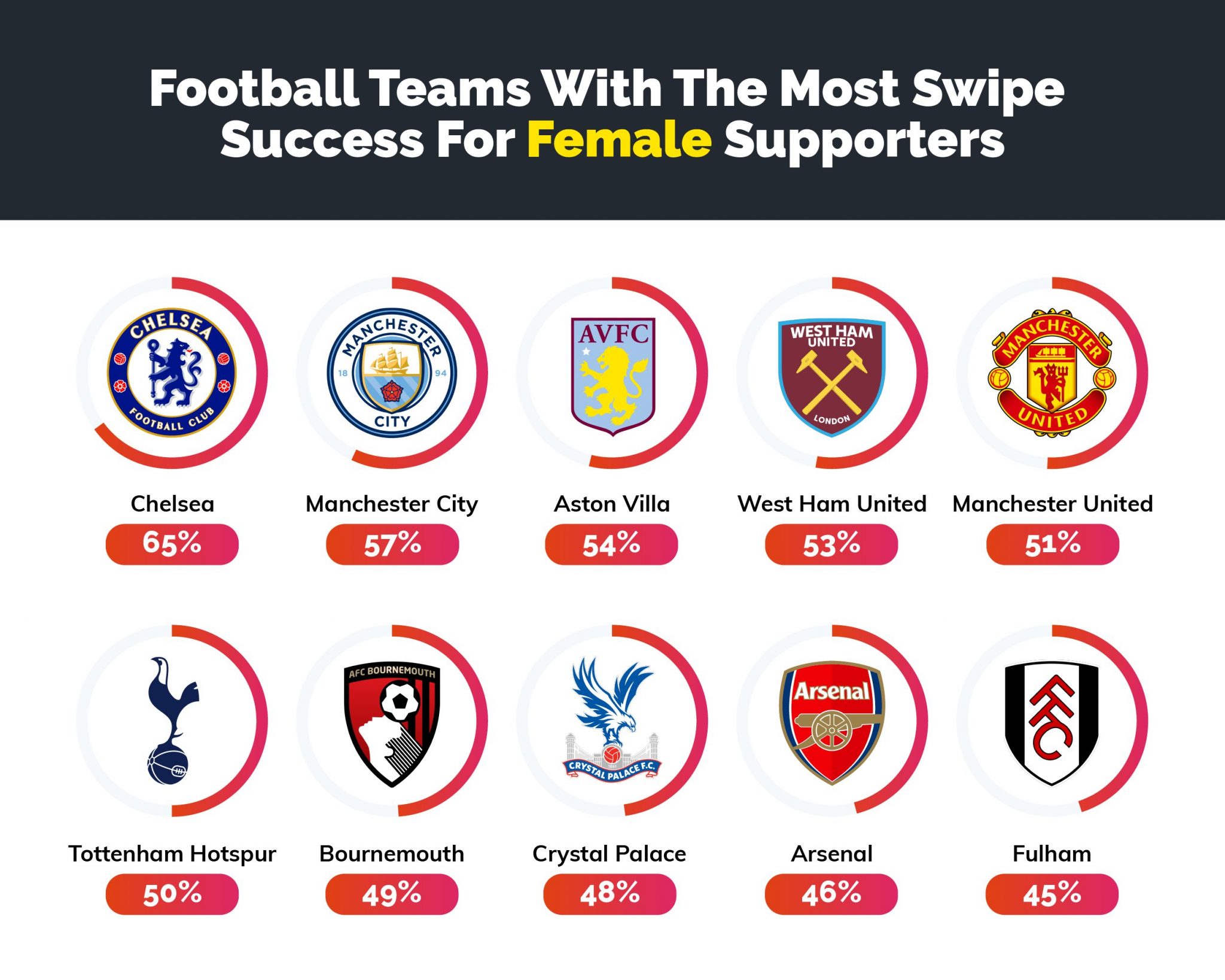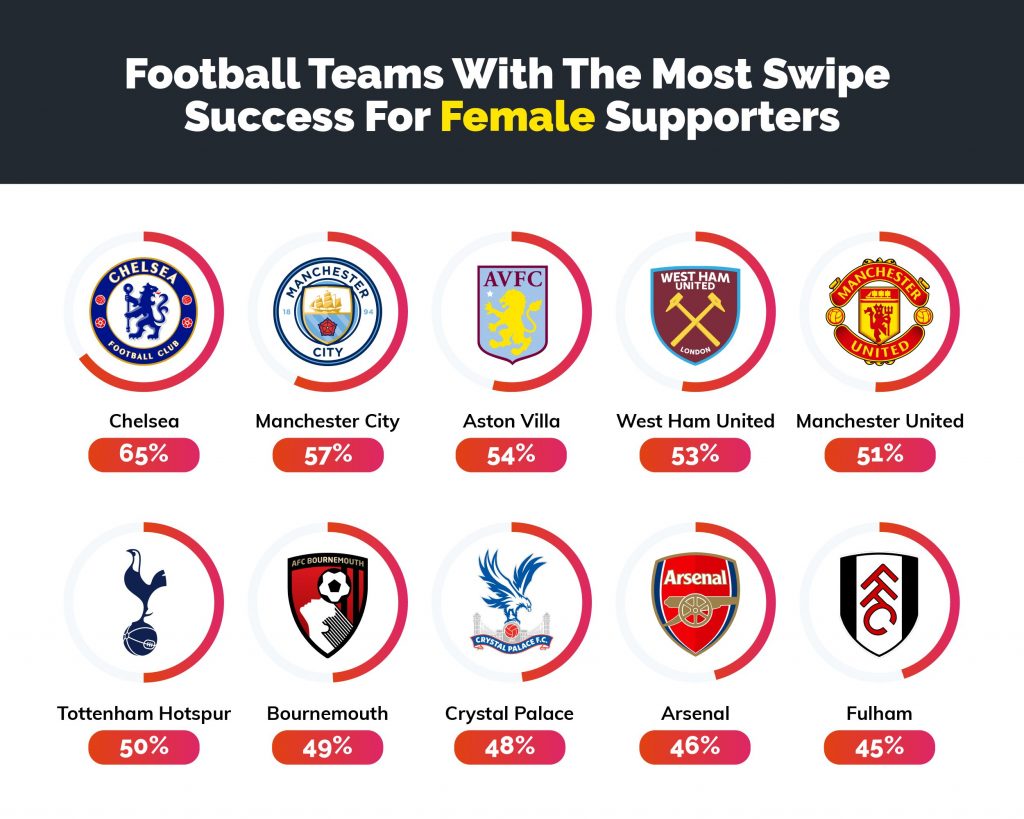 Manchester City also proved to be a popular choice among male matches, coming in at second place with a swipe success rate of 57%. Aston Villa wasn't far behind in third place, with a swipe success rate of 54%. And finally, coming in fourth and fifth place were West Ham United and Manchester United, respectively, with swipe success rates of 53% and 51%.
The most attractive NBA fans
Women prefer Toronto Raptors fans on dating apps
Male Toronto Raptors fans have the best luck with women on dating apps, with our fake profile earning a success rate of 28%. However, men who sport a red Chicago Bulls jersey on their profiles are almost as popular coming in at a very close second place. Bulls supporters rank next with 26% and Sixers fans follow in third with 24%.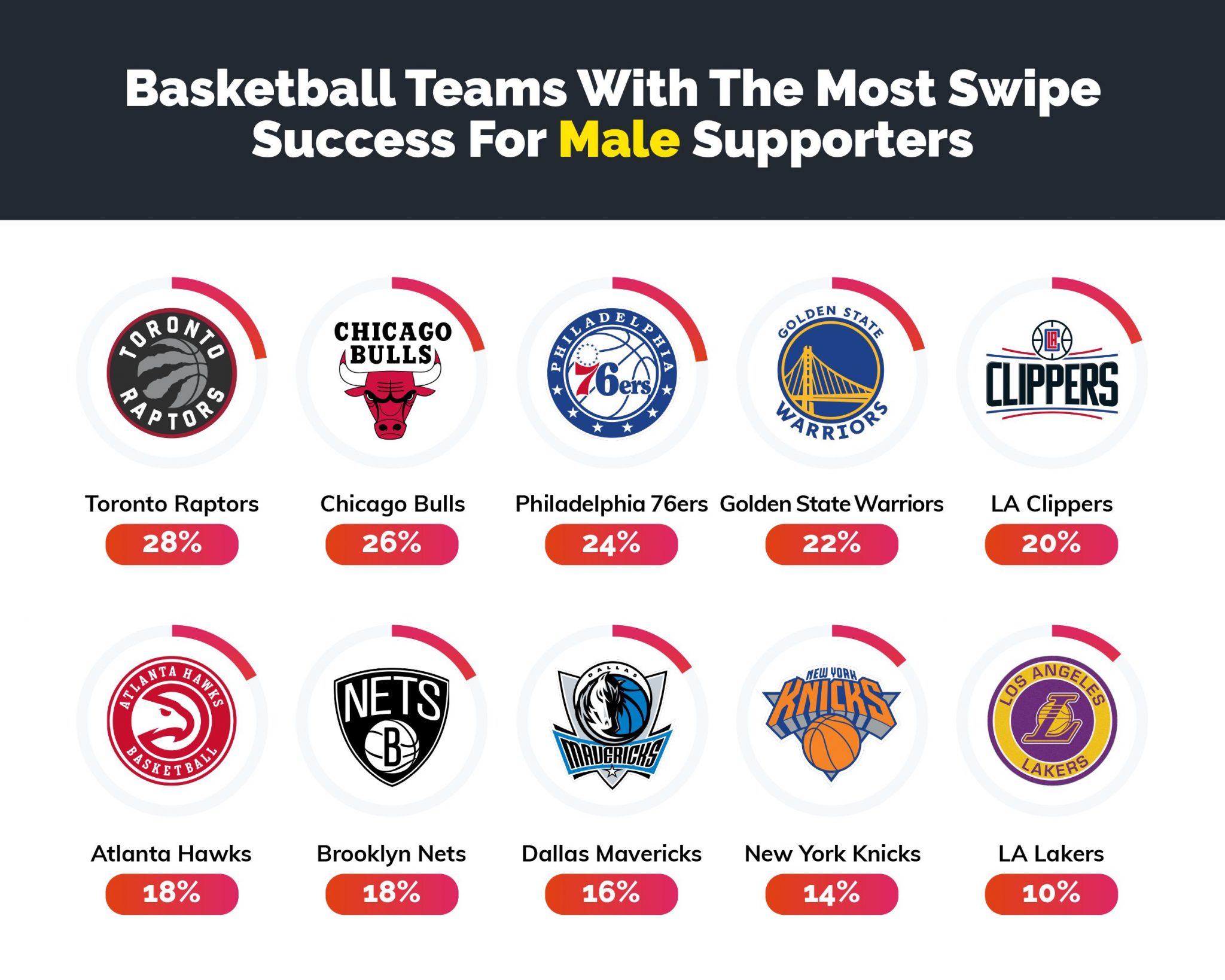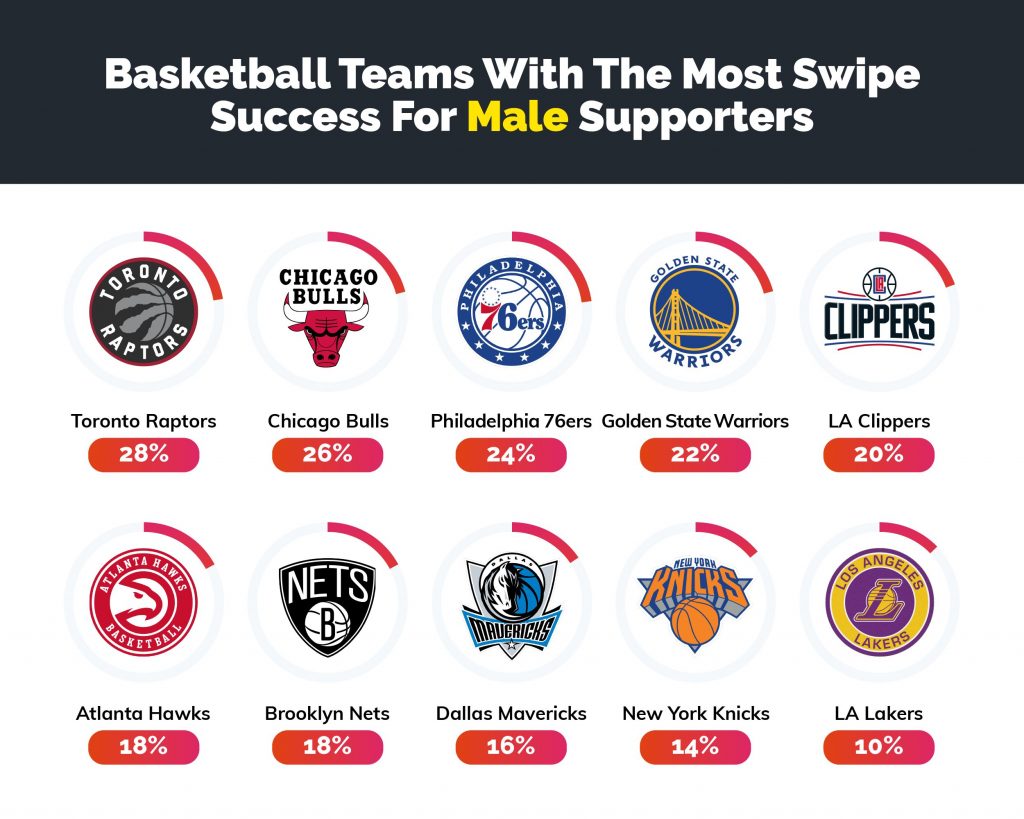 Brooklyn Nets fans attract the most men
Although football is still the most popular sport in the UK, there are plenty of us who tune in to cheer on our favourite basketball teams across the pond. But which of the most popular NBA teams get the most love on dating apps?
Female fans of the Brooklyn Nets take the lead with a success rate of 43%, just beating out rival New York Knicks fans who follow in second with a 39% success rate. LA Lakers supporters then have the next best success rate with men on dating apps with 35.50%.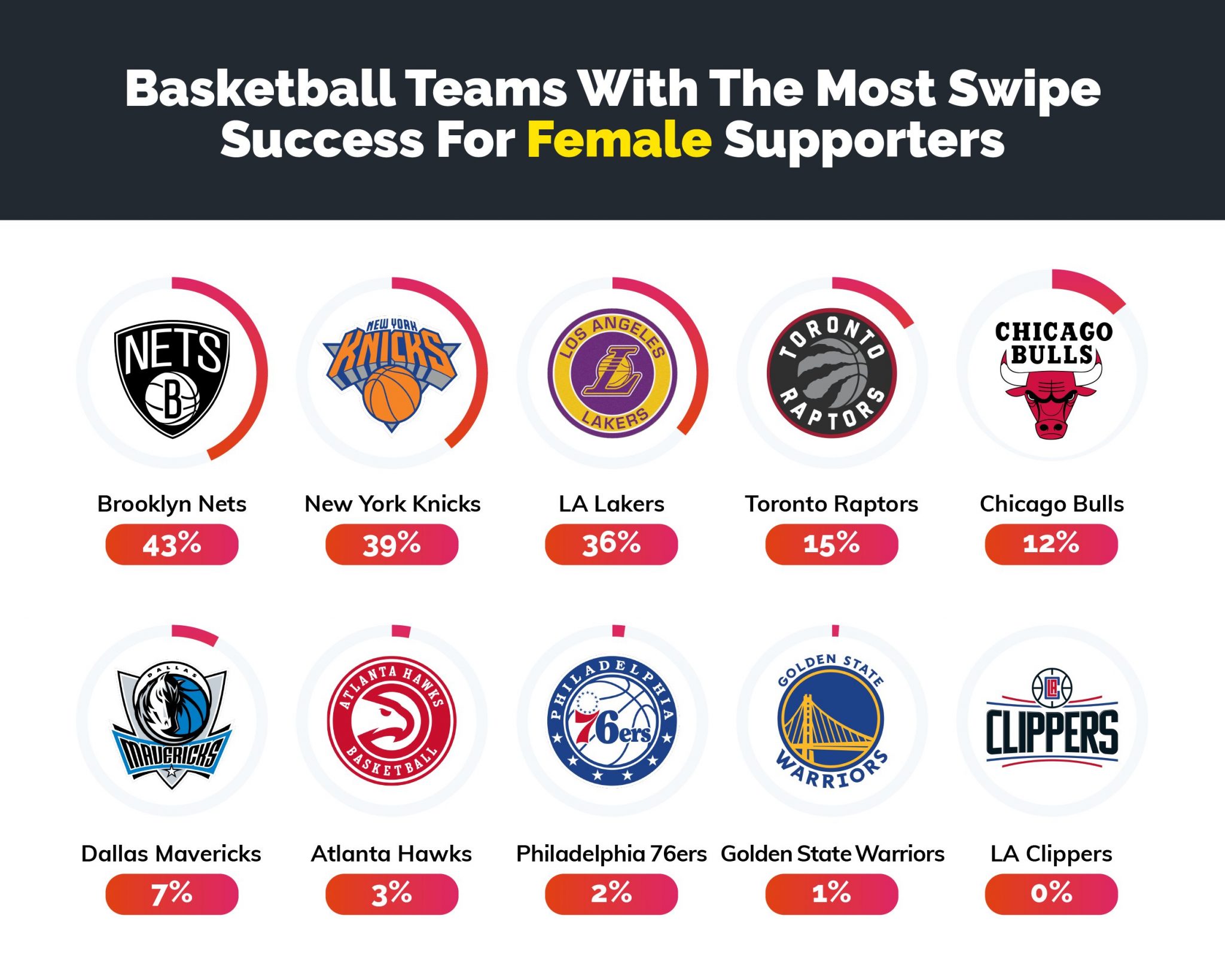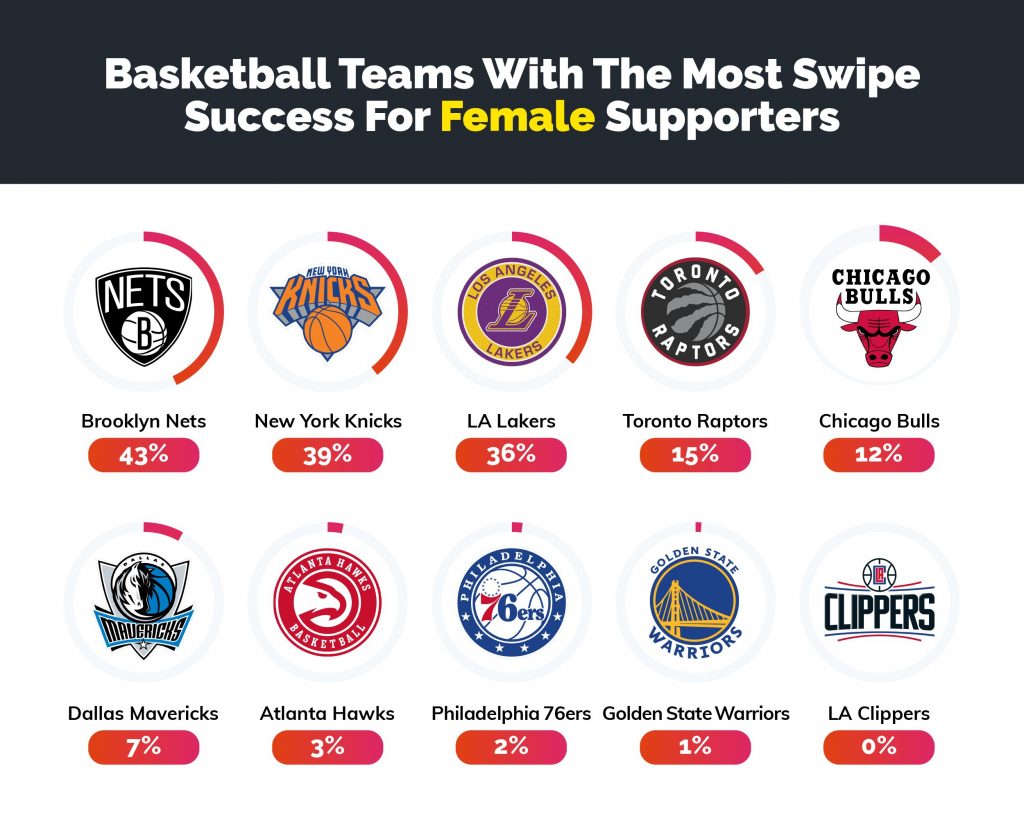 Now that we know which teams are a turn-off and which could boost your matches, will you be making any changes to your dating profile? Or are you committed to standing by your team through thick and thin – even if it means sabotaging your chances at romance?
Methodology:
We created two fake profiles on Tinder, one man and woman, and edited them to show support for different Premier League or NBA teams. We then swiped right on all users available, and recorded the number of matches each profile received to determine the success rate.
The experiment was repeated with all Premier League teams and the top 10 NBA teams. To give each team a fair chance, all information in the profiles remained the same other than which team they supported.