It's common knowledge that modern-day society has seen the stratospheric growth of the social media world, and therefore the introduction of influencers. But where in the world has the highest number of influencers, and how many of us are dreaming of the life of a social media superstar?
We conducted research to find out exactly this. By analysing the number of influencers in different major cities around the globe, and comparing it to the square mileage of each city, we've revealed the top influencer hot spots. Additionally, we conducted a survey to explore just how many of us want a career as an influencer and who wants it the most.
Santiago and Washington D.C. crowned the influencer hotspots of the world
When analysing the number of influencers per square mile that each city has on a global scale, we found that Santiago, Chile and Washington D.C., United States came out on top. Santiago came in first place, with on average 150 influencers per square mile, and Washington D.C. came in a close second with 149 influencers per square mile.
The Spanish capital, Madrid, came in third place packing in 113 influencers per square mile, then Dehli, India and Amsterdam, The Netherlands claimed fourth and fifth place, with 94 and 88 influencers per square mile, respectively.
On the other end of the scale, Ghana's capital, Accra, Canada's capital Ottawa, and Hanoi, Vietnam ranked as the three cities with the fewest influencers per square mile, with each of them having less than one influencer per square mile. Prague, Czech Republic and Canberra, Australia came in only slightly ahead with 1.3 influencers per square mile each.
Leeds claims top spot as the influencer capital of the UK
When breaking it down to just look at some of the major UK cities, the results came as a bit of a surprise. Typically, people imagine London or Manchester to be the influencer hubs of the UK with their diverse social and entertainment scenes, but we found that Leeds actually takes the crown. The Yorkshire city boasts 35 influencers per square mile, which is impressive considering the somewhat smaller square mileage of the city itself.
Edinburgh and Liverpool came in hot on Leeds' trail in second and third, with 32 and 31 influencers per square mile respectively, and Welsh capital Cardiff claimed fourth place with 29. Bristol was the final city to rank in the top five, squeezing in 26 influencers per square mile.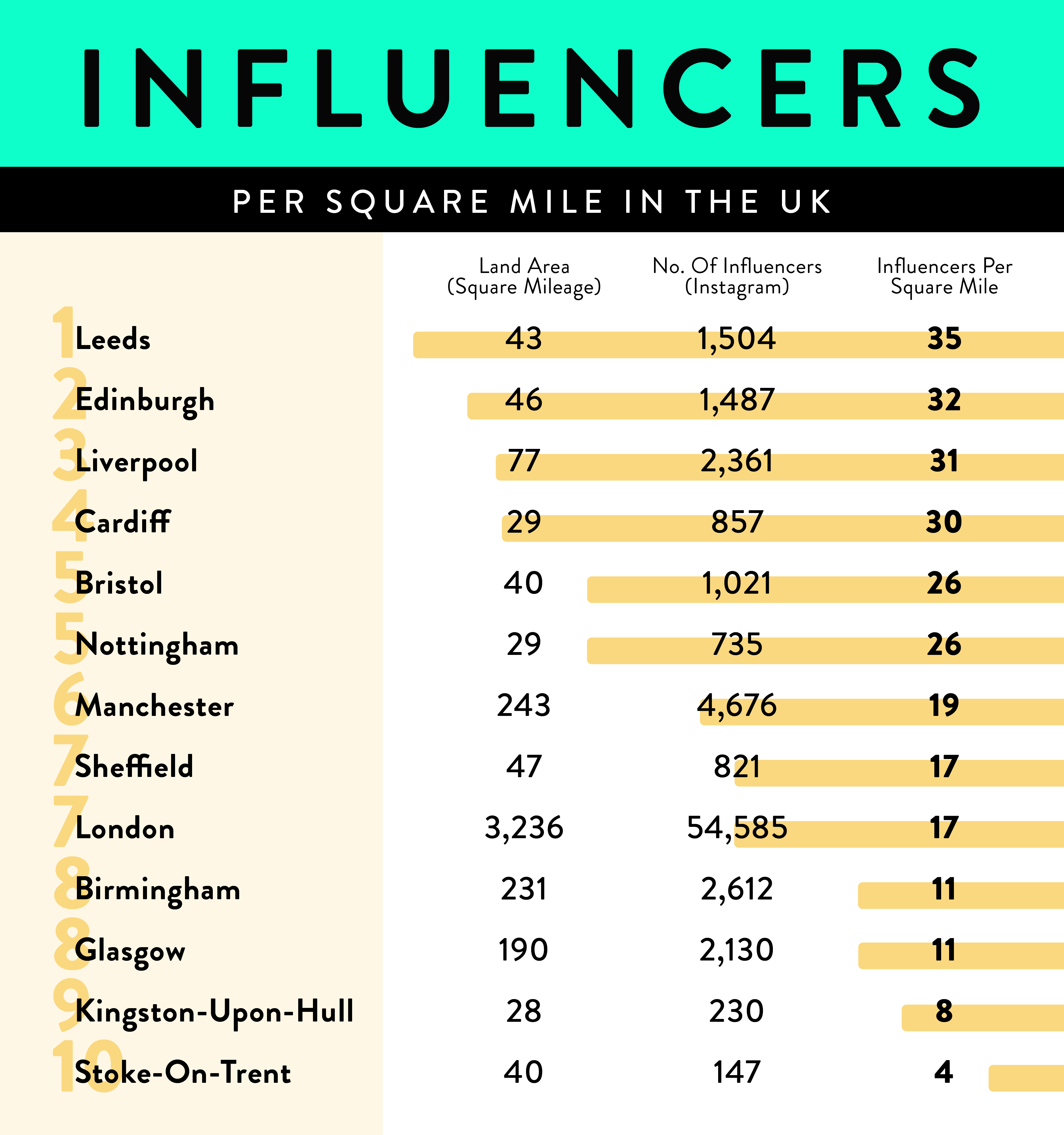 70% of Gen-Z want to be a TikTok influencer
There are now a whole host of different social media platforms you can become an influencer on depending on the niche you're wanting to focus on. While some may say the YouTube era ended after Zoella and Pointless Blog's crew disbanded, our survey showed that might not be the case. 
When asked which social media platform Brits have considered being an influencer on, YouTube was found to be the most popular with over a third (36%) of respondents saying they've either considered it, tried it, or currently are an influencer on this platform. TikTok and Instagram came in joint second place with 32%, proving video content might truly dominate after all.
| | | |
| --- | --- | --- |
| Rank | Social media platform | % of respondents  |
| 1 | YouTube | 36% |
| 2 | TikTok | 32% |
| = | Instagram | 32% |
| 3 | Facebook | 30% |
| 4 | Snapchat | 26% |
| 5 | Twitter | 25% |
| 6 | LinkedIn | 23% |
| = | Twitch | 23% |
| 7 | OnlyFans | 22% |
| 8 | Tumblr | 21% |
With it seeing an average of 1 billion active users, it's no surprise that TikTok ranked so highly. However, it's not just Gen-Z that is getting involved. Our survey found that over half of millennials surveyed (62%) said they'd be open to being a TikTok influencer, which is only 8% less than Gen-Z (70%). When it comes to who is seeing the most success as an influencer on TikTok, millennials are slightly ahead of Gen-Z, with 6% saying they currently are a TikTok influencer, compared to 4% of Gen-Z.
Who's topping the influencer rich list?
We're all aware that if done right, being an influencer can be an incredibly lucrative business. Top earners have been seen to earn as much as $54 million a year (£43,371,926), and up to $5,800,000 (£4,658,466) per post (platform dependent). But which platform sees the highest earnings, and who are these top earners?
When analysing estimated earnings per post across TikTok and Instagram, we found that Instagram has the potential to put significantly more money into your bank account. Instagram's top earner, footballer Cristiano Ronaldo has approximately 572 million followers and can earn up to a whopping $5,800,000 (£4,658,466) per individual post. This is followed by footballer Leo Messi, earning on average $4,595,000 per post (£3,690630), and singer and actress Selena Gomez taking home $4,175,000 per post (£3,353,292).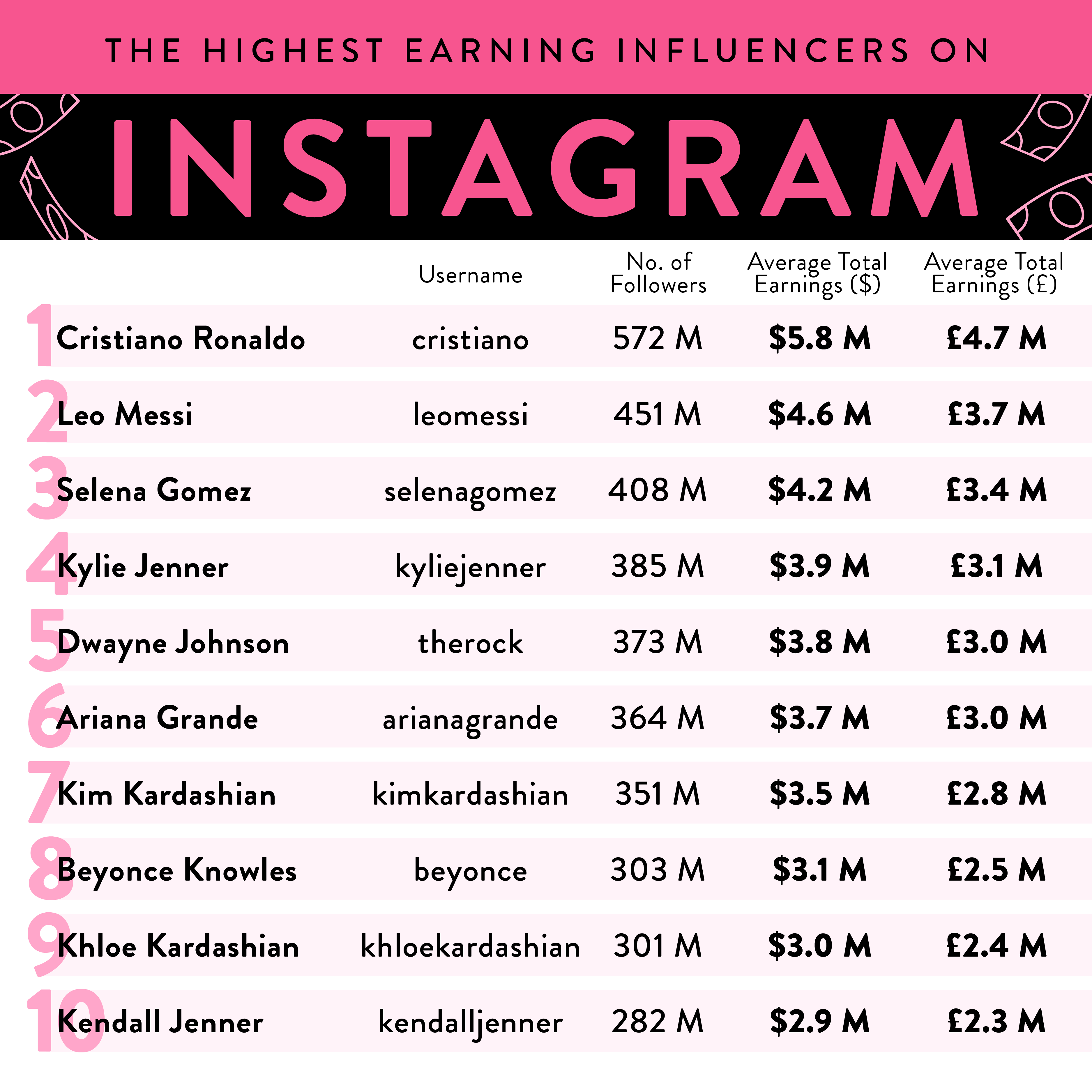 While TikTokers aren't hitting 7-figures per post, they're still getting a hefty sum. TikTok stars Charli D'Amelio and Addison Rae can earn on average $38,371 (£30,819) and $31,661 (£17,801) per video, respectively.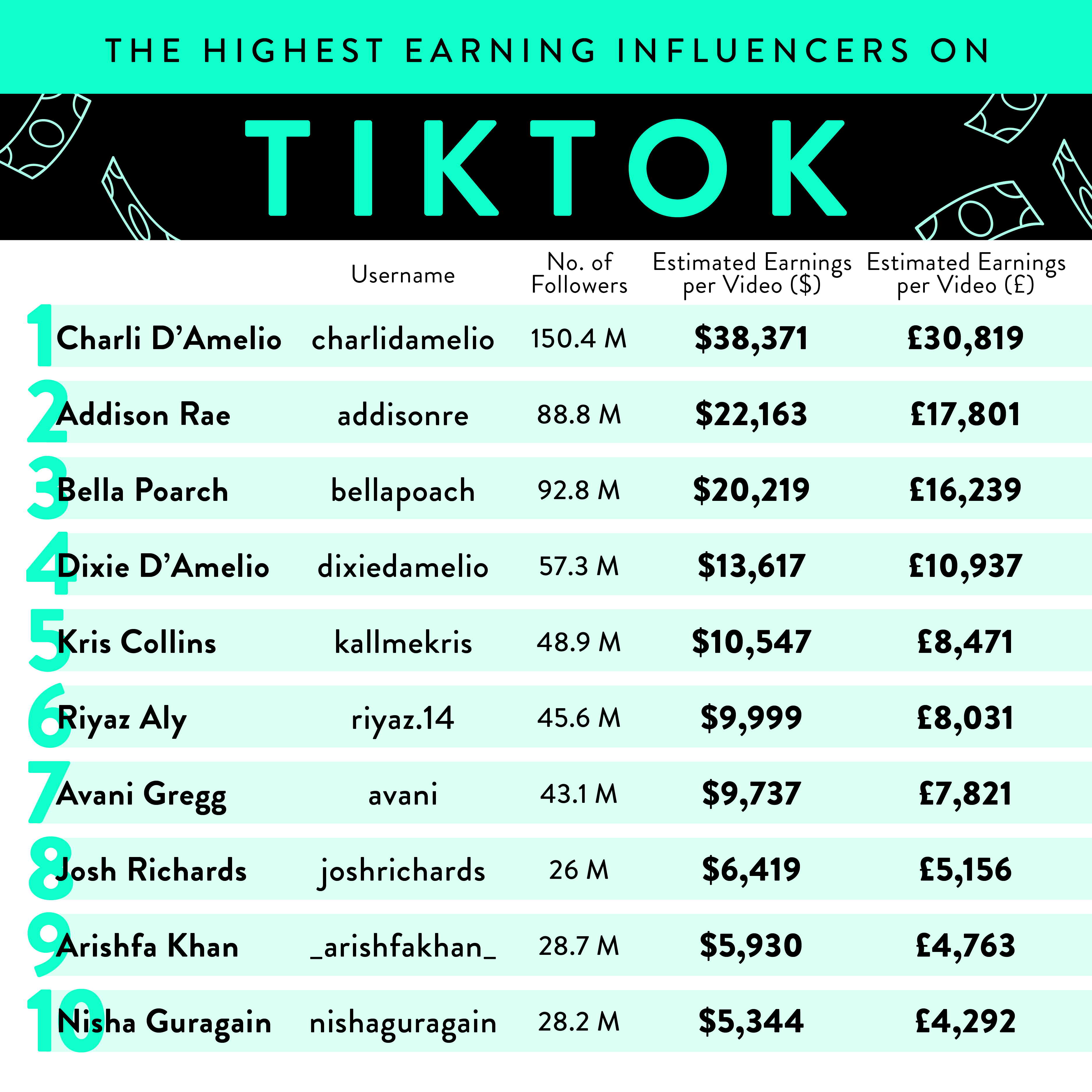 For those considering a career as a YouTuber, you won't be disappointed with the annual earnings you could be in for if your channel soars. Mr. Beast (Jimmy Donaldson) was found to be YouTube's top earner, taking home $54,000,000 (£43,371,926) in 2021. One-half of the Paul brothers, Jake Paul, came in second with an annual earning of $45,000,000 (£36,143,272) and Markiplier (Mark Fischbach) came in third with a yearly income of $38,000,000 (£30,530,985). The second half of the Paul brothers, Logan Paul, also ranked in the top 10, coming in 9th place with $18,000,000 (£14,457,309) – $27 million less than his brother.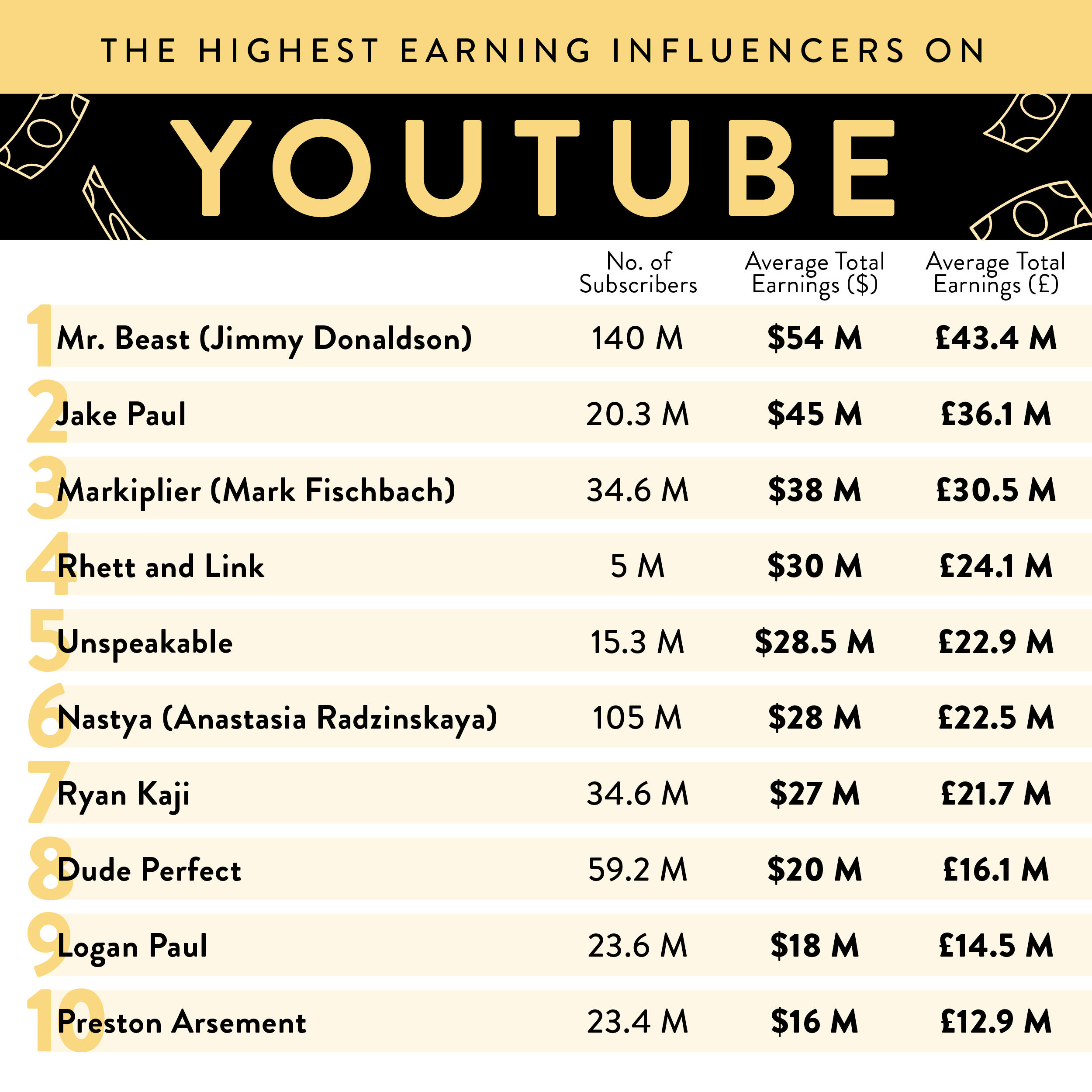 So, for those wanting to dip their toe into the influencer world, it can really pay to find your niche and stay consistent. Who knows, you might even become the next social media sensation!
Methodology and sources:
We carried out a survey of 2,009 UK respondents between 24.03.2023 and 27.03.2023 to find out which cities, age groups, gender and star signs are having the most success on which social media platforms.
The highest-earning influencer accounts come from Influencer Marketing Hub's data on TikTok and Instagram; and Statista.com's data on YouTube – all in USD.
Using Influencity data, we have looked at how many influencers there are in a range of countries and major cities, and compared that to the square mileage of each location to reveal the most influencer-saturated locations. Influencers are defined as personal or creator accounts with more than 10,000 followers.
All currency conversions were completed 20.04.2023 based on a USD conversion rate of 1.245