CASINO GUIDE
Blackjack Surrender
Use This Winning System To Win Big On Blackjack. Improve Your Understanding Of The Surrender Strategy & Minimalise Your Losses. Sign Up At One Of Our Top UK Casinos To Start Playing!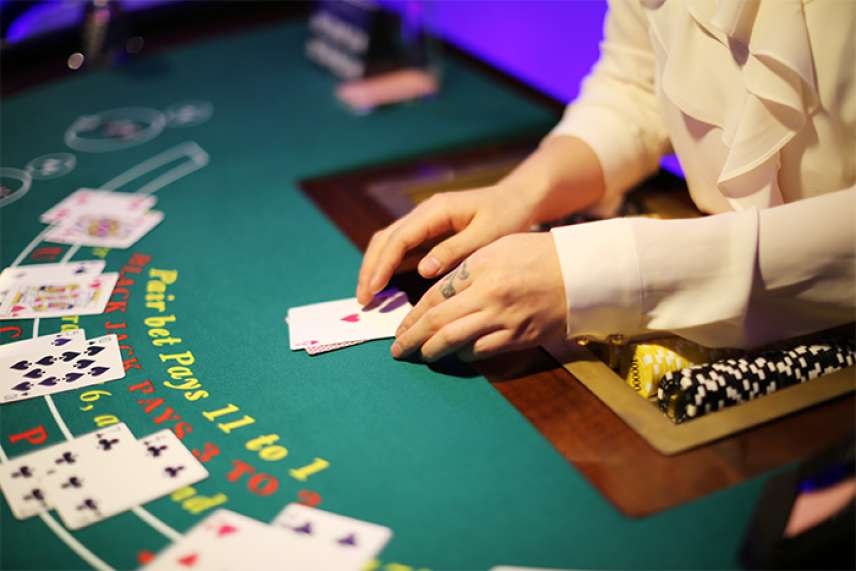 Looking for a way to maximise your bankroll and minimise your blackjack losses? Using the surrender move could help! While it may sound like a cop-out, surrendering your hand gives players more control over their bankroll, and can help you avoid losing money on hands that simply will not win. Whereas some blackjack variations have nuances that restrict players, surrender actually gives them more power, and can even reduce the house edge. Want to find out how to use this move in your blackjack game play? Let's take a look at everything you need to know.
Why use the surrender move?
This betting option allows blackjack players to fold their cards and forfeit half of their bet if they don't believe the hand they've been dealt can compete against the dealer's hand. Many blackjack players avoid this option, as they believe the aim is to win every hand. However, if used correctly, surrendering could actually maximise your profit in the long term.
Not only does the surrender move allow players to take control of their losses when the dealer has a better hand than anticipated, it also allows players to reduce the house edge by around 0.07%. You won't be held to play every hand regardless of its strength, which means you can even out fluctuations in your bankroll.
Not sure when to call it quits on a your blackjack hand? Let's take a closer look at the game's two surrender possibilities.
Late surrender
Late surrender allows you to surrender your hand only after the deal has checked for blackjack. You'll use the dealer's total to influence your decision as to whether if you should surrender. Depending on the variation in question and the number of decks in play, there will be slightly different circumstances under which you should surrender.
Early surrender
This surrender option is much less common because of its ability to reduce the house edge even further- up to 0.63% in some cases! Early surrender means you can forfeit your hand, and half of your bet, before the dealer checks for blackjack. Once again, the benefits and risks of surrendering will depend on the variation and the decks in play.
Blackjack surrender strategy
Not sure whether to surrender or risk asking for another card? It's important to use basic blackjack strategy and set yourself some rules when it comes to surrendering. You should forfeit your hand when your chances of winning are less than 25% or when your expected loss is bigger than 50%.
When to use late surrender
| Number of decks | Table rules | Players starting hand | Dealer's face up card |
| --- | --- | --- | --- |
| 1 | Soft 17 | 16 | 10 or A |
| 1 | Soft 17 | 7-7 | 10 |
| 1 | Hard 17 | 15 | A |
| 1 | Hard 17 | 16 or 7+ 7 | 10 or A |
| 2 | Soft 17 | 15 | 10 |
| 2 | Soft 17 | 16 | 10 or A |
| 2 | Hard 17 | 15 or 16 | 10 or A |
| 2 | Hard 17 | 17 | A |
| 2 | Hard 17 or NDAS | 8 + 8 | A |
| 4/6/8 | Soft 17 | 15 | 10 |
| 4/6/8 | Soft 17 | 16 | 9,10 or A |
| 4/6/8 | Hard 17 | 15 | 10 or A |
| 4/6/8 | Hard 17 | 16 | 9,10 or A |
| 4/6/8 | Hard 17 | 17 | A |
| 4/6/8 | Hard 17 | 8-8 | A |
NDAS= No double after splitting
Soft 17= Dealer must hit on 17 made from Ace as 11
Hard 17= Dealer must stand on any total of 17
When to use early surrender
There are lots more viable opportunities to make an early surrender, if your game allows this option. The strategy for early surrender only differs from late surrender when the dealer's face up card is 10 or A.
| Dealer's face up card | Player's hand |
| --- | --- |
| A | Hard 5 to 7 |
| A | Hard 12 to 17 |
| A | 3+3, 6+6, 7+7, 8+8 |
| 10 | Hard 14 to 16 |
| 10 | 7+7 or 8+8 |
There are exceptions to these rules in some circumstances. This means you should:
Not surrender if you're holding 4+10 or 5+9 in a single deck game, against the dealer's 10.
Not surrender if you're holding 4+1 in a two-deck game against the dealer's 10.
Not surrender if you're holding 8+8 against dealer's 10 in a single deck game when double after split is allowed.
Surrender if you're holding 2+2 against dealer's A if the dealer hits soft 17.
Ready to compare and play?
Now that we've taken you through the ins and outs of using surrender at the blackjack surrender table you're ready to put it into practice. Want to find the best online casino offering blackjack games with this move? Use our list of handpicked blackjack sites to pick out your favourite, sign up and start playing!
Frequently asked questions
What's the difference between the Blackjack Surrender game and the surrender move?
While there are a number of titles that give players the option to surrender their hand, Playtech have developed a game named after the move. Its 'Blackjack Surrender' title is a six-deck game which allows players to wager on five hands at the same time, with an impressive RTP of 99.65%. The surrender move in blackjack allows players to fold if their initial hand is too weak, but is not specific to one blackjack title.
Can I use my bonus when playing these blackjack games?
Yes, whether you want to use a no deposit welcome bonus, or a deposit match bonus, you'll be able to use them across a variety of online casino games- be it blackjack, roulette or slots. Each casino bonus will have specific terms and conditions in terms of wagering requirements and game restrictions, so you should check these before you sign up. Follow the link on our lists to claim your bonus! Simply make a deposit using your preferred payment method— be it Visa, PayPal or Neteller— and start playing.
Can I surrender at all blackjack tables?
No, the surrender move isn't always available to players. Progressive blackjack and Blackjack Switch are just two examples of games that don't allow this move. You should always check the rules, as well as the odds and payouts of blackjack games before you start playing.
When can't I surrender?
You're no longer allowed to surrender once you've already taken an action on your hand. Surrender must be your first action after the cards have been dealt. Also, if the game only allows late surrender, you can only surrender after the dealer has checked for blackjack.
How do I show that I wish to surrender?
In a brick-and-mortar casino, you'll need to tell the dealer that you wish to surrender and they'll ask you to give the surrender hand signal so that the cameras can see. This involves placing your index finger on the table and drawing an imaginary horizontal line between you and the dealer. At online casinos you'll simply press the surrender button on the screen.