CASINO GUIDE
Blackjack Odds & Payouts
Play Blackjack Online Using This In-Depth Odds + Payouts Guide. Improve Your Knowledge Before Taking A Look At Our Top UK Online Casinos. Compare, Find A Favourite & Start Playing!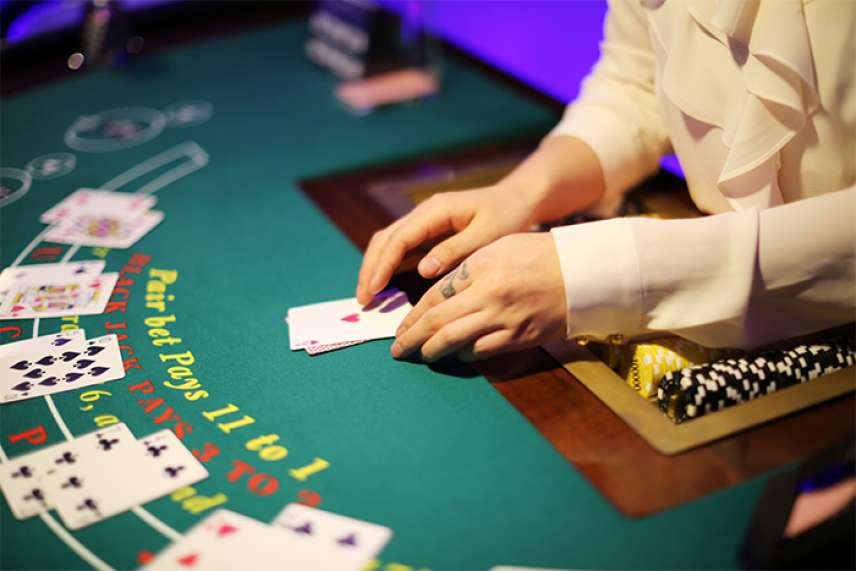 Optimising your blackjack strategy and placing the right bets can give you the best chance of beating the dealer. Blackjack might seem a simple game at first glance, but there are a number of factors that could affect your chances of winning.
This in-depth guide will explore everything you need to know about blackjackodds and payouts . We'll cover how these differ among the most popular variants of online blackjack, as well the most common blackjack side bets and how a strategy can improve your chances of winning. Whether you're a total beginner looking to get a head start with your understanding of blackjack odds and payouts, or are just looking to improve your blackjack knowledge, this guide has everything you need you know.
House edge and return to player
When you play your cards right, blackjack offers a low house edge . Displayed as a percentage, this is the advantage that the casino holds over a prolonged period play, and can be calculated in line with the return to player (RTP) or payout percentage. The RTP gives you an indication of how likely you are to earn an overall win on that game. This means that, if you're playing a casino game with 99% RTP,  you'll win £99 for every £100 wagered, in the long term.
The number of decks in play will affect the casino's advantage. Here are some examples:
| | | |
| --- | --- | --- |
| No. of decks used | House edge (%) | Return to player (%) |
| 8 | 0.43 | 99.57 |
| 6 | 0.40 | 99.60 |
| 5 | 0.38 | 99.62 |
| 4 | 0.35 | 99.65 |
| 2 | 0.18 | 99.82 |
| 1 | 0.18 | 99.82 |
These percentages are based on the 'lifetime of the game', if an infinite number of hands were to be played. For instance, if you play just one hand of blackjack, you'll either win, lose or tie.
The casino's advantage also depends on the specific rules in play, and each blackjack variant has its own quirks. Each of these rules will have an impact on the casino's edge:
Does the dealer hit or stand on soft 17?
Can the player double down after splitting?
Can the player double down on any first two cards?
How many splits are allowed per hand?
Can Aces be split?
What does getting 'blackjack' pay?
It's important for every player to know the rules inside out, whichever blackjack variant they're playing. Savvy blackjack players generally opt for a game with rules that make for the lowest casino advantage.
Popular blackjack variants
A general rule among blackjack players is to play with as few decks as possible because the house edge is usually more player-friendly. However, there are many variants of the classic casino game which add their own interesting twists, but what are the odds and payouts like for these games?
Double Exposure Blackjack
In this variant, both of the dealer's card are shown (exposed) when they are dealt. Naturally, Double Exposure Blackjack features some rule to compensate for this and keep the odds in favour of the casino, such as blackjack pays 1:1 — rather than 3:2—  and ties result in a dealer win, rather than a push. The average house edge for Double Exposure Blackjack is 0.61%, with a RTP of 99.39%.
Blackjack Switch
In Blackjack Switch the player starts with two hands and places an equal-sized wager on each hand. The cards are dealt and the player is allowed to 'switch' the second card of each hand. So, for example, if you were dealt: 10 – 6 (hand 1) and 5 – 10 (hand 2), you can switch the 6 and 10 to make a total of 20 in hand 1 and a total of 11 in hand 2.
To keep the odds in favour of the casino, a dealer busting on 22 results in a push against non-busted player hands and blackjack pays 1:1. The average house edge for a six deck casino game of Blackjack Switch played according to standard rules is 0.58%, but this can be as low as 0.17%, depending on the specific rules in play, which will vary according to the software provider.
Spanish 21
Spanish 21 is played using six or eight decks of cards, each with just 48 cards as the 10s have been removed. There are a number of player-friendly rules that counter this clear casino advantage, such as double down after split, resplitting aces, player's 21 always wins and player blackjack beats dealer blackjack. In Spanish 21, a five-card hand pays out 3:2, a six-card hand 2:1 and seven or more cards totalling 21 pays out 3:1. If the dealer stands on soft 17, the average house edge is 0.40% with a RTP of 99.60%.
Double Attack
Double Attack another popular variation of blackjack, which is also played with 48-card decks. The  main twist here is that the dealer's first card is dealt face up, and you then have the opportunity of doubling your wager after seeing this card before your own cards are dealt. While blackjack only pays 1:1, the insurance bet in Double Attack Blackjack pays 5:2. The averagehouse edge for this variant is 0.62%, offering a RTP 99.38%, but this can vary depending on the software provider for your game and the specific rules in play.
Blackjack side bets
The more blackjack you play, the more side bet options you'll encounter. While these can be tempting — and can offer impressive payouts on a lucky day— they won't pay off in the long term. These are some of the most common side bets you'll see in online blackjack games.
Insurance
Virtually every online blackjack game, offers insurance bets, and the payout is usually written across the blackjack table. The basic insurance bet applies when the dealer's face-up card is an Ace, and will be half of your main bet, paying out at 2:1 . You'll only receive the insurance payout if the dealer does have blackjack. While this may seem like a safe option, it could actually set you up to fail in the long term.
This is because, if the dealer has an Ace facing up, the odds against them having natural blackjack is 9:4. Over a longer period of time, let's say 130 insurance bets, you'd win the bet 40 times, but lose 90 times, based on these odds. If you were placing £5 insurance bets, you'd win £450, but lose £450, leaving  you with a total loss of £50.
Perfect Pairs
In this side bet, you're betting landing a pair in your first two cards. The payout will differ depending on the cards in the pair. In a standard eight-deck games, same suit pairs payout 25:1 , s ame colour pairs payout 15:1 , and mixed colour pairs payout at 5:1 . The low probabilities of hitting these pairs makes Perfect Pairs a risky side bet.
21 + 3
21 + 3 is another common side bet. Here you are betting on your first two cards and the dealer's up card. The original 21+ 3 was 9:1, but new variations offer varying payouts, which depend on hand you receive. For example, a suited trip pays out 100:1, while a straight flush pays out 40:1 . The theoretical RTP for a 21 + 3 side bet is 95.38%.
Early and Late Surrender
While the surrender move in blackjack doesn't increase your chances of winning, it can play a role in adjusting the house edge and help control your losses in the long term.
Early Surrender Rule
This is one of the most favourable rules for players as it gives them a chance to surrender their hand before the dealer has checked for natural blackjack. This move will mean you forfeit half your wager but, done under the right circumstances, could reduce the casino's advantage significantly- though the exact percentage will depend on the rules in play. Early surrender is less common than late surrender because of the huge advantage it gives players.
Late Surrender Rule
Much the same as early surrender in that you lose half of your wager but this time you must wait until after the dealer has checked for natural blackjack, which means you can still lose if they hit 21 in their first hand. While the reduction of house edge with late surrender is small, it's definitely worth taking advantage of.
Ready to play?
Now we've covered the ins and outs of blackjack odds and payouts, you're probably ready to give the game a go. When it comes to blackjack, the more you practise, the better you'll get at decision making, which will pay off in the long term. Not sure where to find the best online blackjack games? Take a look at our list of top UK online casinos with unbiased reviews to help you select the perfect casino for your blackjack preferences. We've even found the best casinos offering liver dealergames and high stakes blackjack, so there's a site for everyone. All you need to do is compare, find a favourite and sign up to start playing at one of our trusted casino sites!
Frequently Asked Questions
Do I get better blackjack odds playing the game on desktop or on my mobile?
You have the same odds of winning blackjack, regardless of whether you're playing through the casino's mobile app or online. RTP and house edge will also be the same, no matter which platform you play on.
Can I play free blackjack games online?
Yes! In fact, TopRatedCasinos.co.uk recommends using free demo games to improve your blackjack skills. No deposit bonuses, especially no deposit free cash deals, are another great way of learning the ropes with blackjack before you place real money on the table. We'd advise taking the same, responsible approach to free blackjack games as you would to real money games, as this can help to establish good gambling habits.
Do I get higher blackjack payouts and better odds if I wager more?
The blackjack payout ratio is fixed, so if you wager £10 and get blackjack at 3:2 you'll win £15. Of course, you'll win more if you put a higher amount at stake, but the odds of winning and payout ratio remains the same regardless.
Do I have better odds of winning blackjack or roulette?
As a general rule, you stand a higher chance of winning blackjack— under standard rules— than roulette. This is because standard blackjack games have a low house edge— under 1% providing you play according to optimal strategy— in comparison to the 2.70% for European Roulette and 5.26% for American roulette.
What is the best blackjack strategy to improve my odds of winning?
Unfortunately there's no singular strategy to guarantee a blackjack win every time you play. With so many blackjack variations, different rules will apply for each game. However, we'd recommend learning some basic blackjack strategy before you begin, and avoid placing side bets to minimise the level of risk in your gameplay.
Contributors

Daniel is our Head of Operations and former Head of Content, with seven years' experience in the online gambling industry. Across the site, he offers his expertise in all things gambling, from casino reviews and strategy guides to responsible gambling material and more. In his spare time Daniel is an avid sports fan, following the Premier League and NBA closely in particular, as well as a photographer and burgeoning TikTok celebrity.